Daydreams of anywhere but home seem to be the only thing on our collective mind these days. But with all international travel temporarily on hold, it's close-to-home getaways that have caught the imagination of US travelers – and we've found the top five accommodations making it onto their staycation wish lists*.
If a local trip is on your mind too, create a wish list on the Booking.com app.
Luxor
The Luxor gives Ancient Egypt a modern twist
Along Las Vegas's eclectic skyline, the thirty-story onyx pyramid of the Luxor is one of the city's most recognizable structures. The hotel takes its name from Ancient Egypt and has a replica of the Great Sphinx of Giza at its gates to welcome guests. Once checked-in, guests have plenty to enjoy within the lavish Luxor complex, including a full casino, wedding chapel, and on-site spa. While outdoors, guests can soak up the Nevada sunshine alongside one of the four pools. Even the ride up to your room is a thrill, as you coast upstairs in an elevator that's inclined at an angle of thirty-nine degrees.
Marseilles Beachfront Hotel
Kick back in one of the pool cabanas at the Marseille Beachfront Hotel
Even though the Marseilles Beachfront Hotel has direct access to a private beach, there's plenty of action poolside, too. The on-site Backyard Bar serves signature cocktails and delicious American fare, while the hammocks and pool cabanas are the best way to recline in the Florida heat. The hotel's Art Deco aesthetic is emblematic of the classic Miami Beach vibe, and every guest room is as comfy as it is chic.
B Ocean Resort
Take in beautiful Fort Lauderdale views from the comfort of a private balcony
Fort Lauderdale is packed with incredible places to stay, but the B Ocean Resort has made its mark among vacationers as one of the famous getaway city's best. The resort has direct access to its own private beach where you can enjoy food and beverage service from the comfort of one of the lounge chairs on the sand. Plus, there are two pools on site, and many of the rooms have expansive private balconies for taking in the beautiful ocean views.
Seacrest Oceanfront Resort
Splash around at the Seacrest Oceanfront Resort's on-site waterpark
With everything the Seacrest Oceanfront Resort has to offer, it's no wonder it's made its way onto so many wish lists for Myrtle Beach. It has a total of nine swimming pools, two indoor hot tubs, and a waterpark with an indoor lazy river. Once you're ready to dry off, head to the poolside Malibu Beach Bar for great food and drinks, as well as seasonal live entertainment and karaoke.
Caribe Royale
Relax like royalty while just minutes from Orlando's best attractions
The Caribe Royale is a resort that lives up to its regal name. The sumptuous air throughout the resort and each one of its palatial rooms are fit for vacationing royalty. If the pool with 75-foot waterslides, fitness center, sport courts, and playground weren't enough to keep you entertained on site, then rest assured knowing key Orlando attractions like Disney World, SeaWorld, and Universal Studios are all just a quick drive away.
Beachside Resort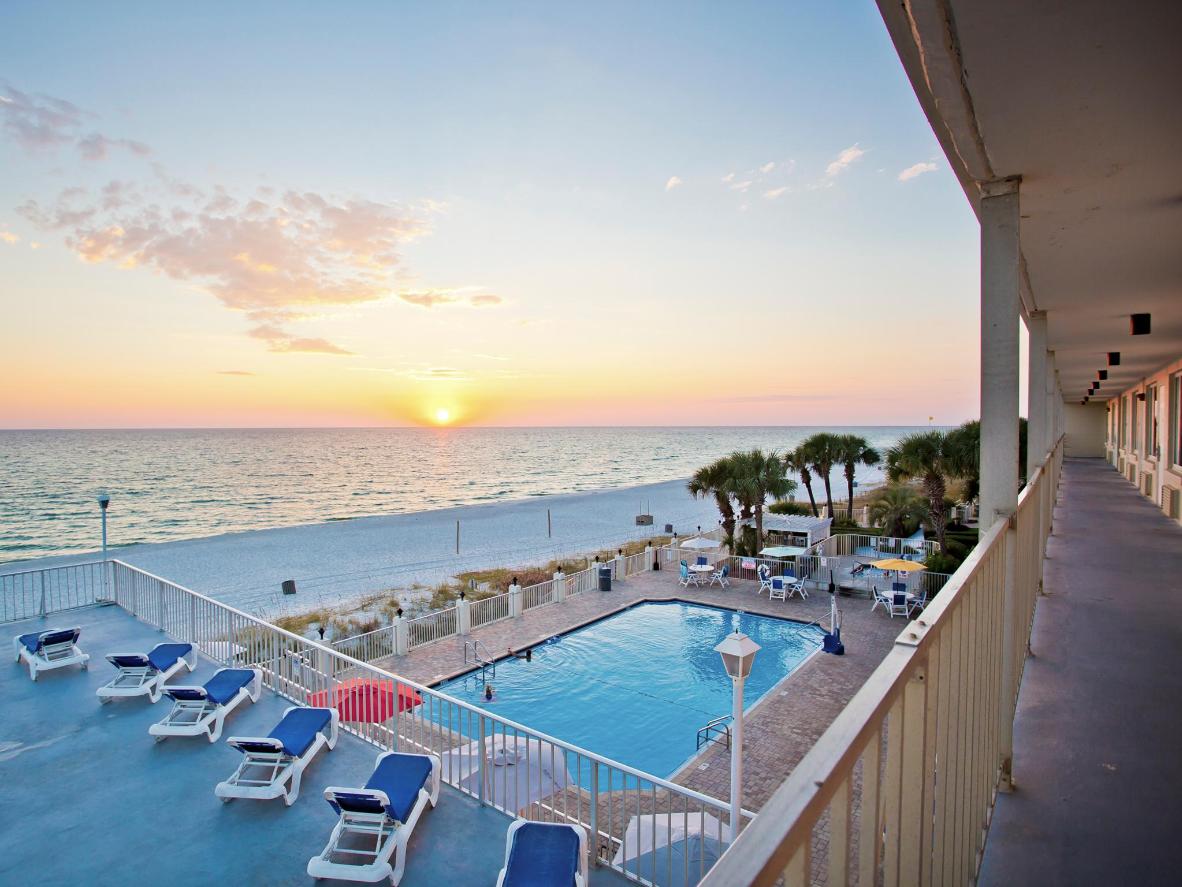 Unbeatable sunset views over the Gulf of Mexico from the Beachside Resort's sun terrace
Even when the temperatures cool off between November and March in Panama City, you can still enjoy a dip in the Seaside Resort's heated pool year round, as well as its poolside bar and spacious sun terrace. Also, the location isn't just great because of its white sands and striking Gulf views. Everything you could ever need—from key shopping and local landmarks—is just a short drive away, giving you every reason to lengthen your stay.
*We looked at the top domestic accommodations that our US travelers added to their Booking.com Wish Lists since March 2020.