Brazil is home to the largest Japanese diaspora in the world. These Japanese emigrants and their descendants are known as the Nikkei, and arrived during the early 20th century, at a time when Brazil was actively seeking labourers. Today, there's a flourishing Japanese community that has held onto its heritage through its food, shaping a new genre of fusion that combines the best of Brazilian and Japanese flavours. São Paulo, in particular, is a hub for this inventive cuisine and we've rounded up some of the best spots in the city to visit for a taste.
Djapa
The harumaki with banana and guava are a highlight
Djapa is an upscale eatery that was created to introduce Brazilians to Japanese cuisine, and it's thriving. As is the way with many Japanese-style restaurants in Brazil, Djapa has a rodiízio-style (all-you-can-eat) menu. But its options go beyond the usual; look for panko (bread crumb)-covered sushi rolls, grilled teppan (a Japanese metal plate for cooking) dishes like Portuguese-style cod and potato topped with shiitake, and salmon with orange and garlic, alongside desserts like harumaki (Japanese spring roll) with banana and guava. This restaurant is ideal for groups or for those with an appetite. Find a spot in its ochre-coloured interior, furnished with statement metal touches and dark wood, and order the traditional rodízio. Afterwards, return to this penthouse apartment nearby.
Bar Kintaro
Grab a sizzling plate of pork with miso and scallions
This fusion restaurant is run by former Brazilian national sumo champion, Willian Takahiro Higuchi. Located in the Liberdade neighbourhood (São Paulo's Japantown), it's an izakaya-style eatery, meaning an evening here is more of a low-key, casual affair than a high-end night out. Choose from a selection of cold and sizzling plates presented at the front of the bar like a deli; the pork with miso, chicken gizzards, and sashimi with red peppers is a must-try. Wash it all down with some sake or Japanese beer while you chat to fellow patrons (which is encouraged in the establishment's family atmosphere). Spend the night at Leques Brasil Hotel Escola.
Lámen Açú
The ramen is mixed with tucupi which gives it its distinct sunny hue
Ramen is popular the world over and at Lámen Açú, you'll get to try a style with a uniquely Brazilian twist. Here, the owner's speciality – dubbed 'Amazon lámen' – is inspired by the ingredients of her husband's home state of Para (home to the third-largest Japanese community in Brazil). The traditional ramen broth is mixed with tucupi, a sour yellow sauce that's extracted from the wild Amazonian manioc root. It's then garnished with all the staples (think seaweed, fish cakes and green onion) before jambú (a native herb known for its mouth-tingling properties) and dried shrimp are heaped on top. It's a sunny, colourful and warming dish, so slurp it up as the locals do before you slip away to Hostel Casa Azul.
Aizomê
Try the tempura de camarão
At Aziome, seasonal Brazilian ingredients and traditional Japanese techniques help the restaurant carve out its distinct offering of fusion food. Chef Telma Sherashi, who runs the restaurant, draws on her Japanese heritage but also the culture she's made her home to inspire the menu. Expect dishes like tempura de camarão (prawn tempura), mapará (an Amazonian fish that replaces the traditional eel) and pickled hibiscus petals that stand in for umeboshi (a pickled plum). Much of these dishes are part of an ode to Japan and are devised by the chef to evoke a sense of nostalgia for Japanese customers. As for the restaurant itself, the decor here is classically Japanese. Seat yourself at the circular counter and watch your food be prepared in front of you or find a spot in the horigotatsu-style room, where you'll be sitting at a table on the floor. Stay at Franca 232 nearby.
Temakerias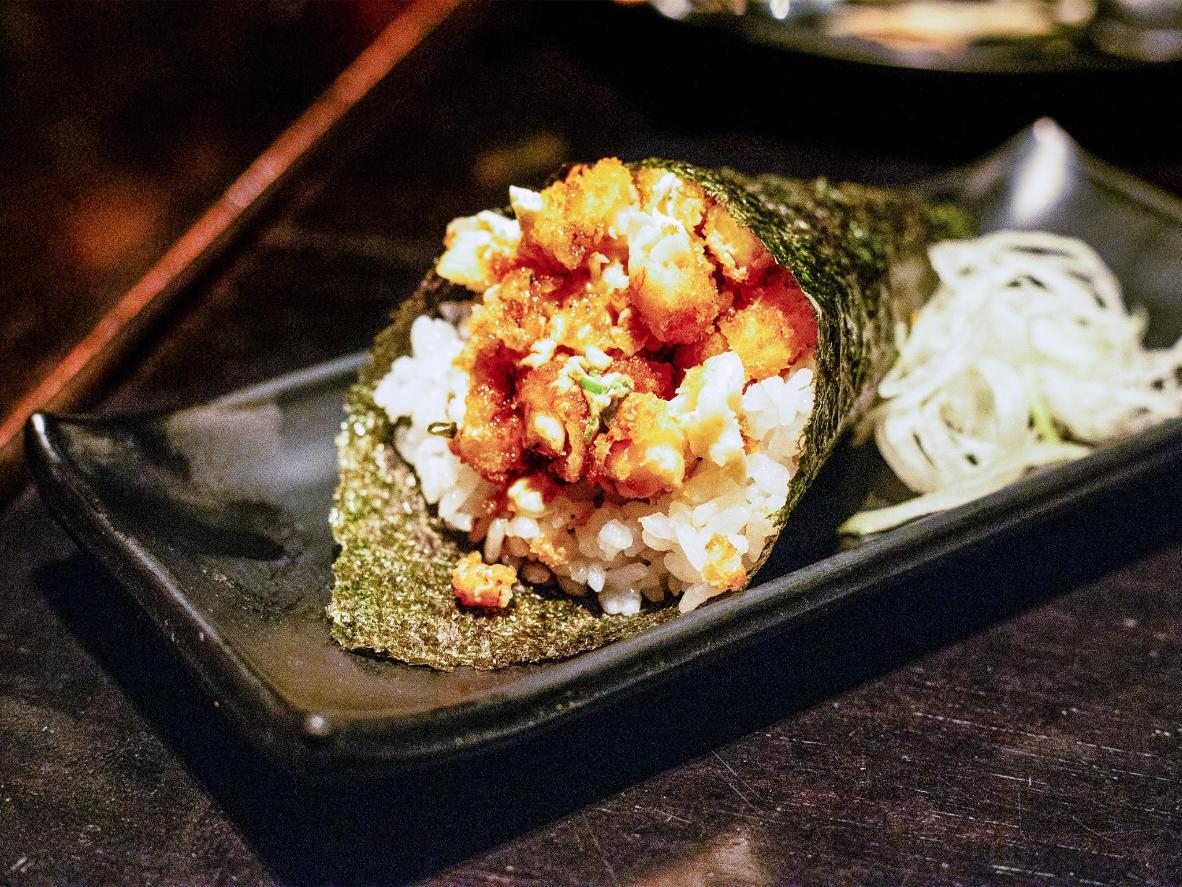 These hand-rolled sushi are popular across Brazil
You'll find temakerias throughout Brazil and they're the perfect embodiment of Japanese and Brazil food culture. Taking their name from the Japanese cone-shaped sushi roll, temaki, these affordable, laid-back eateries serve hand-rolled sushi in a variety of flavours. It's fast food that's also healthy, and can be found dished out anywhere from roadside locations to high-end nightclubs. A popular version of the temaki that you'll find all over São Paulo is filled with cream cheese and smoked salmon, then deep-fried in tempura batter, while a sweeter version is filled with a medley of tropical fruits native to Brazil. Temakeria Paulista is a hugely popular restaurant in São Paulo, so stop by when you're in town or stay in Liberdade at Hostelaria SP, where you'll find a range of other temakerias.