Venture outside sprawling cityscapes like Tokyo and discover the wild and otherworldly beauty of Japan's national parks. These protected landscapes feature incredible natural diversity, from fluttering pink cherry blossom petals in spring to autumnal, maple forest-cloaked valleys glowing crimson and gold.
In summer, expect camping in Japanese beech forests, hiking ancient volcanic calderas, and swimming with dolphins. In winter, discover frozen waterfalls, onsens with mountain views, and rare, red-crowned cranes stalking gracefully through the snow.
Akan Mashu National Park, Hokkaido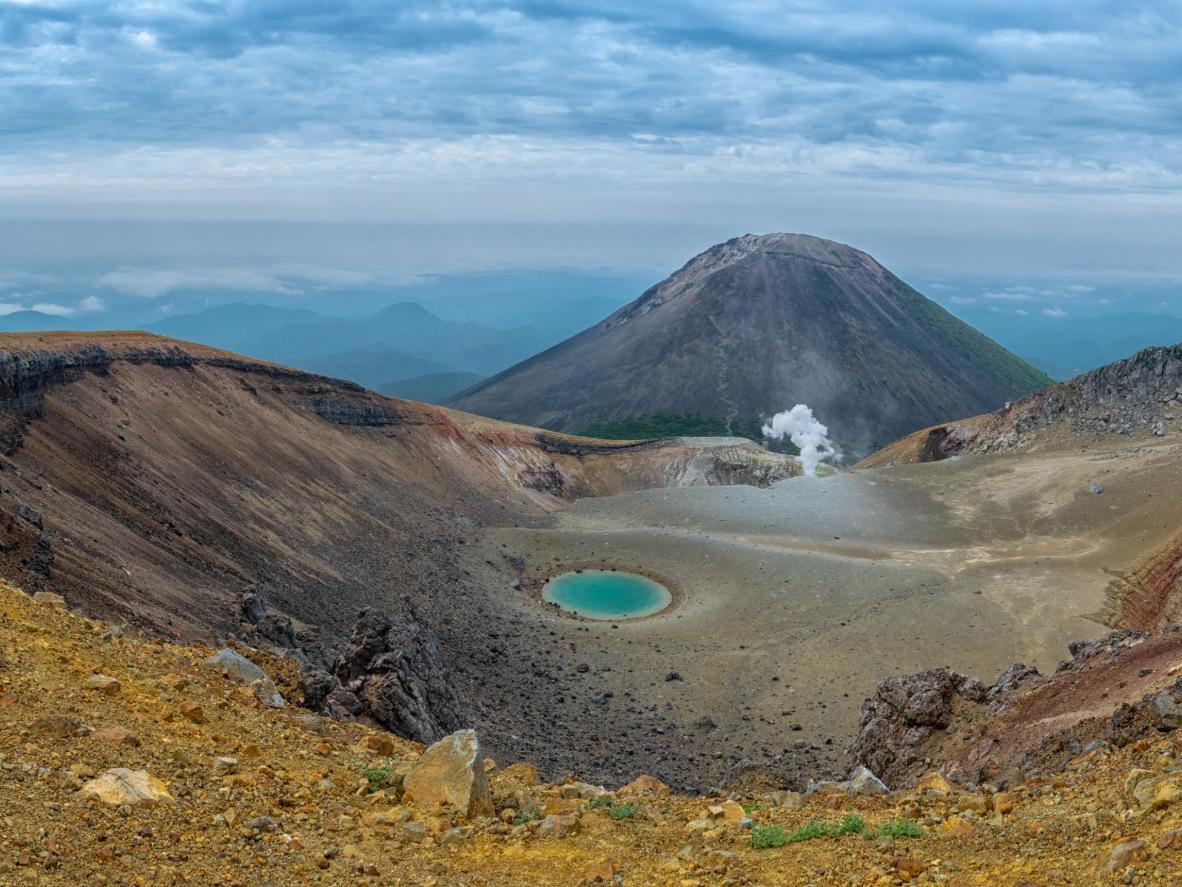 Akan Mashu National Park, Hokkaido
Sparsely populated Hokkaido is a natural paradise, with six national parks on the island and endlessly spectacular, wild scenery. Come between June and August to hike volcanic calderas for panoramas of lakes shrouded in mist and fringed by forest and marimo (appearing as clusters of mystical moss balls on the shores of Hokkaido's Lake Akan – this nearly extinct algae can only be found in a few places around the world). The park is also home to Japan's biggest Ainu community (the indigenous people of Hokkaido). The Ainu are featured in the popular manga series, "Golden Kamuy." Fans can check out Lake Mashū ("the lake of the gods" in Ainu) if visiting in summer. Between December and February, the park is best for onsens (geothermal hot springs) and excellent snow sports (cold fronts from Siberia bring some of the world's best powder to the island). Look for Tanchou (the Japanese crane and a national treasure) too, as many can be seen in the area in winter. Stay on the shores of Lake Akan at Akan Yuku no Sato Tsuruga.
Towada-Hachimantai National Park, Aomori/Iwate/Akita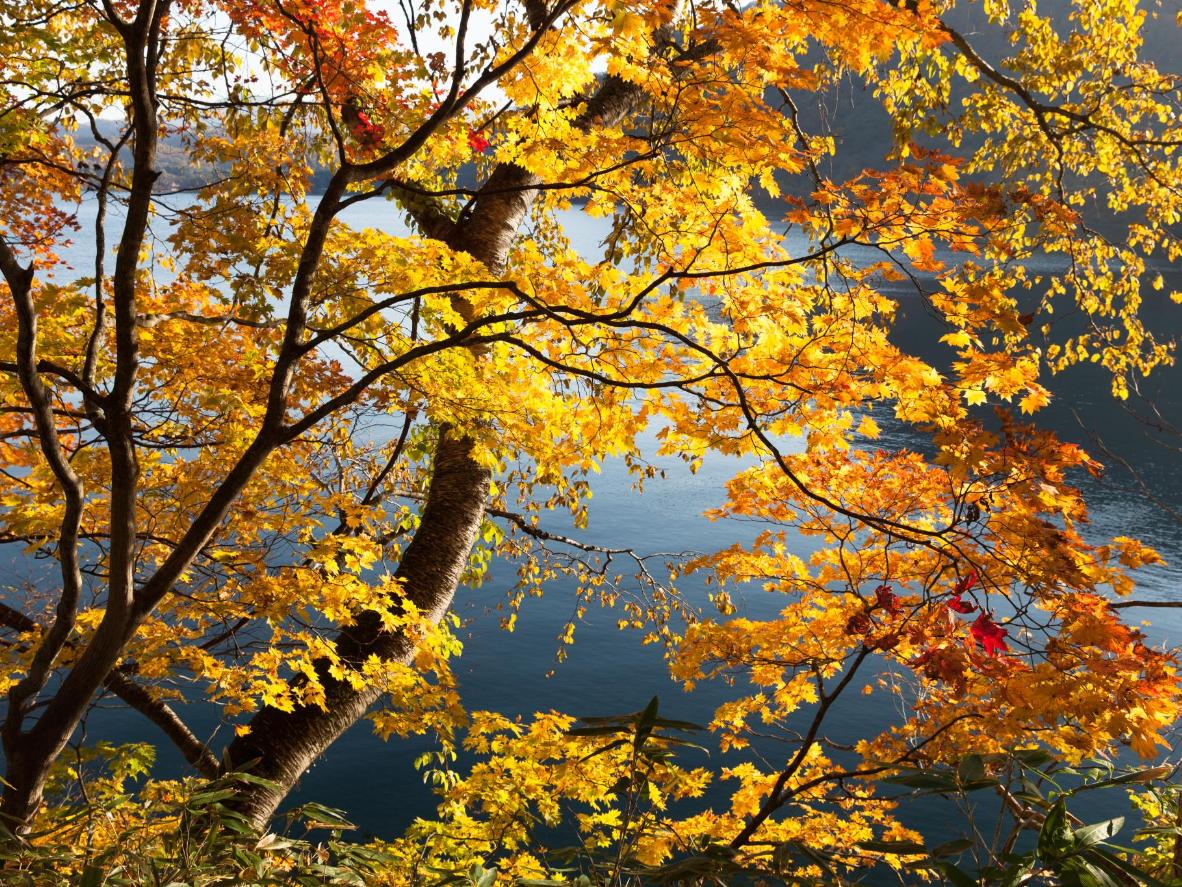 Towada-Hachimantai National Park, Aomori/Iwate/Akita
The mountainous Towada-Hachimantai National Park can be found in northern Japan straddling the Aomori, Iwate, and Akita Prefectures. Natural landmarks here include Lake Towada, Hakkoda Mountain, and the Oirase River (with a boardwalk you can stroll). The park is known to peak in autumn (October especially), when the virgin forest glows golden with falling leaves. But in winter, the frozen waterfalls and snow-covered trees look equally majestic and are often illuminated to magical effect. Skiing, snowboarding, hiking, cycling, canoeing, and onsen bathing can all be enjoyed here, as can warm winter regional dishes like Kiritanpo (pounded rice wrapped around a stick of cedarwood and roasted) and Inaniwa udon (flavorful udon with thinner noodles than usual). Stay at Historical Ryokan SENYUKAN, just a half-hour drive from the park.
Nikko National Park, Tochigi/Gunma/Fukushima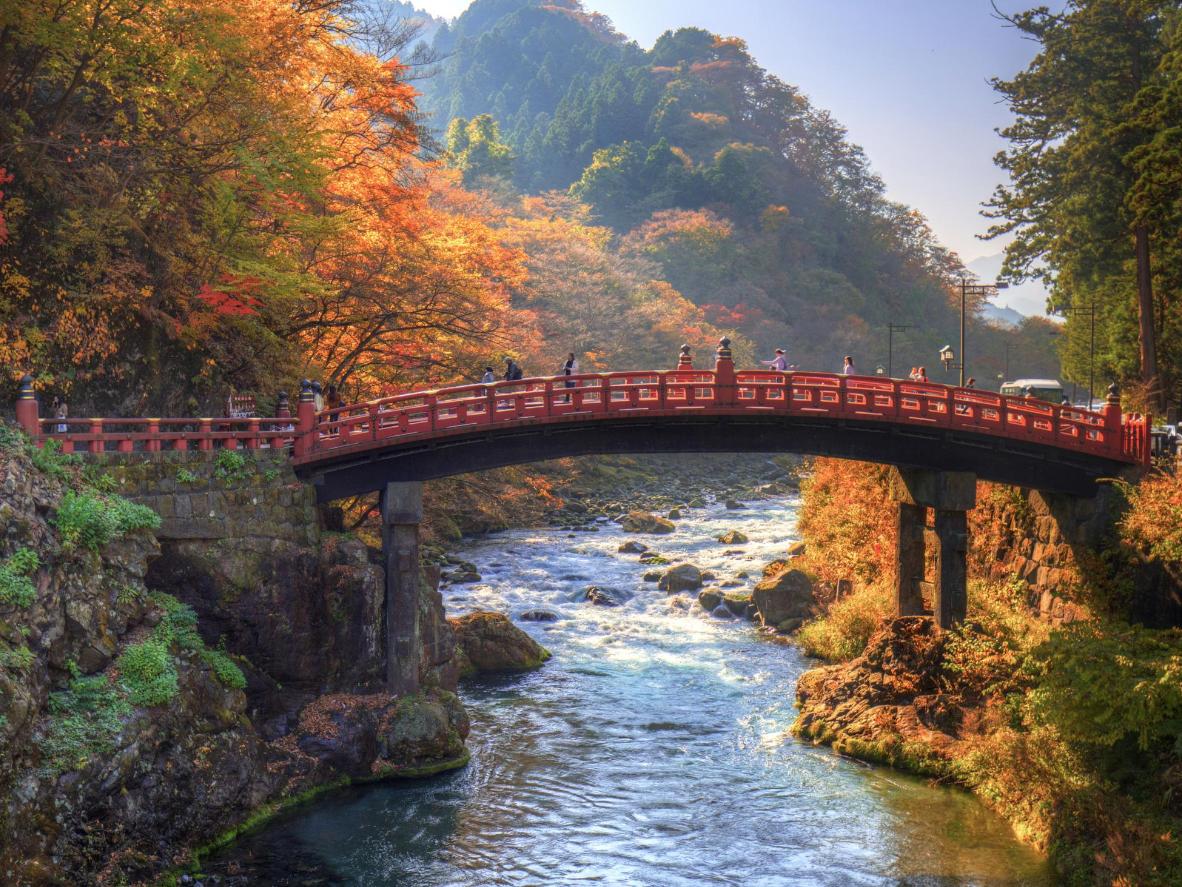 Nikko National Park, Tochigi/Gunma/Fukushima
You may well visit Nikko National Park to admire its surreal natural beauty. But it's the exquisite historic Shinto shrines, Buddhist temples, and pagodas peeping through the trees that elevate the scenery. Must-sees include the ornately carved golden rooftop of Nikkō Tōshō-gū shrine, the gleaming red walls of Rinno-ji temple matching the crimson-colored forest in autumn, and the wistful Shinkyo Bridge, originally used exclusively by the emperor. Also spread across three prefectures, the park is about a 2-hour train ride or 3-hour drive from Tokyo. The available activities vary widely depending on the season – you can hike, canyon through crystalline creeks, and camp amid rhododendrons and daylilies during the summer months. Or even partake in a sacred waterfall meditation (check out the popular Kegon Falls in particular). In winter, a variety of adventurous snow sports await (from snowshoeing to climbing ice walls), but you can also opt for a relaxing onsen soak and a stroll through the snow-blanketed surroundings. Enjoy open-air natural spring baths with mountain views while staying at Asaya.
Showa Kinen Park, Tokyo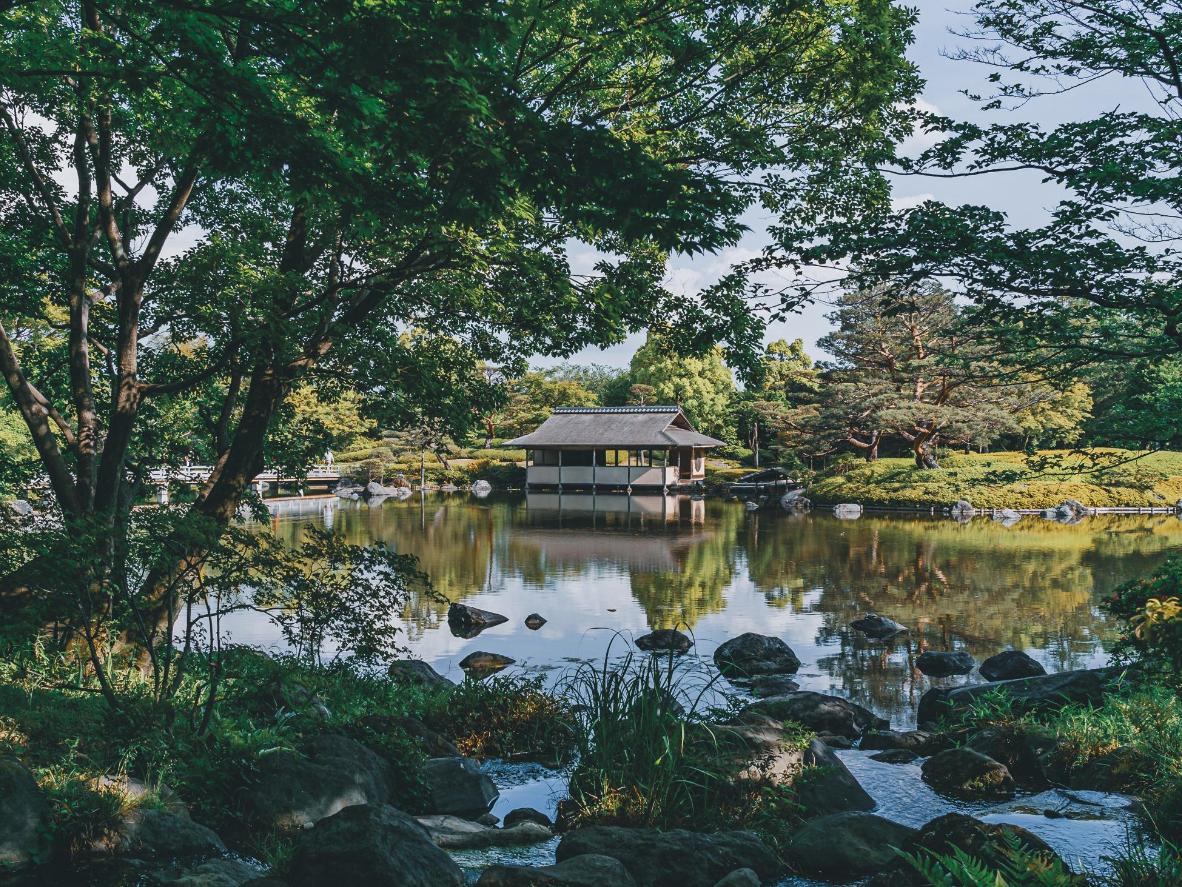 Showa Kinen Park, Tokyo
For a taste of Japan's sublime nature without having to leave Tokyo, Showa Kinen Park is a true oasis in the western suburbs. Just a 30-minute train ride from the city center, you can rent bikes to cycle along woodland trails and around manicured flower beds of vibrant tulips. Or rent a paddle boat and explore the park's pretty ponds and ginkgo tree-lined canals. It's a delightful escape from the crowded metropolis at any time, but it's particularly popular in spring and autumn. Check out the Cherry Blossom Garden for a seasonal sakura spectacle and participate in hanami under the blooming trees. Or visit the Japanese garden filled with maple trees for a warm, autumnal scene. In December, the park is illuminated with festive lighting. In summer, come have a barbecue (barbecuing is permitted in the park) and check out the Tachikawa Festival fireworks display. Stay at Kikusuitei in the west of Tokyo.
Fuji Hakone Izu National Park, Kanagawa/Shizuoka/Tokyo/Yamanashi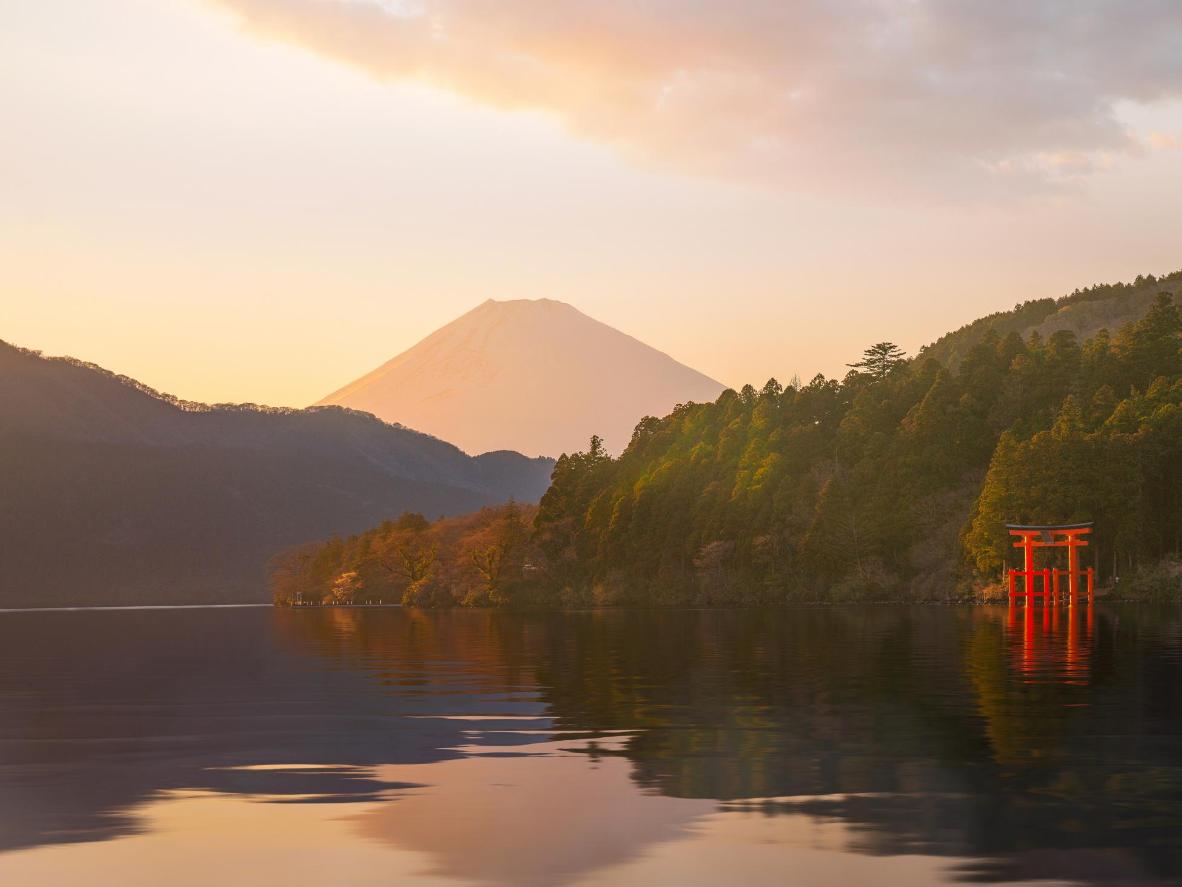 Fuji Hakone Izu National Park, Kanagawa/Shizuoka/Tokyo/Yamanashi
Home to the mighty mount Fuji and in close proximity to Tokyo, Fuji Hakone Izu is Japan's most visited national park. Climb the slopes of the sacred volcano in summer, or revel in its soulful, snow-capped beauty from afar in winter. The Fuji Five Lakes (with Lake Kawaguchiko being the most accessible and popular) serve as great vantage points for admiring the view of Mount Fuji. But it's the park's natural diversity that makes it endlessly exciting, from the soothing, romantic beauty of the Sengokuhara grass field to eerie lava caves and waterfalls. After a day spent hiking Japanese beech forests, refresh your legs by bathing in healing geothermal springs in the Hakone region's "great boiling valley." Guest house SEKINO offers accommodation within a charming, traditional Japanese house.
Setonaikai National Park, Shikoku (Seto Inland Sea)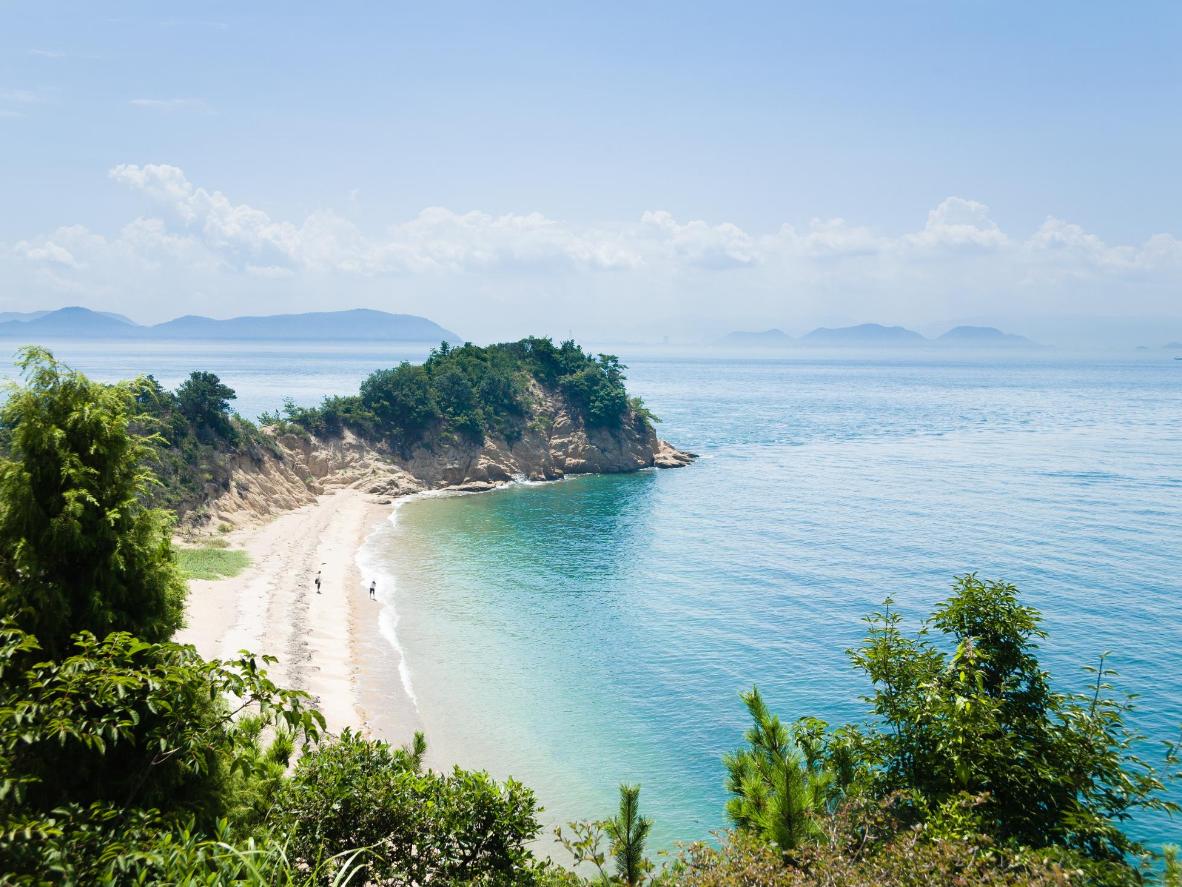 Setonaikai National Park, Shikoku (Seto Inland Sea)
Setonaikai was Japan's first national park and is its largest (spanning a whopping 3,475 square miles of land and sea and 11 prefectures). Aside from cultural attractions like the renowned Benesse Art Site Naoshima art project and the Setouchi Triennale art festival, the park offers an array of activities from hiking and cycling to sea kayaking. Best of all is the range of landscapes – the park comprises a collection of about 3,000 rugged, mountainous islands floating in the Seto Inland Sea. It's also home to the small island of Miyajima, most famous for its beautiful torii gate that appears to float on the water at high tide. Tour Setonaikai's magical fishing villages (like Tomonoura, famous as the setting of Studio Ghibli's "Ponyo") and visit white sand beaches lined with pine trees. Or hike past terraced rice fields and take a cable car to the top of Mount Rokko for far-reaching views of Osaka Bay. There's also the unmissable sight of the Naruto whirlpools – a phenomenon formed by currents meeting in the Naruto Strait where circling torrents of ocean can span up to 65 feet wide. Wake up to ocean views at the highly rated Wakka.
Aso Kujū National Park, Kumamoto/Oita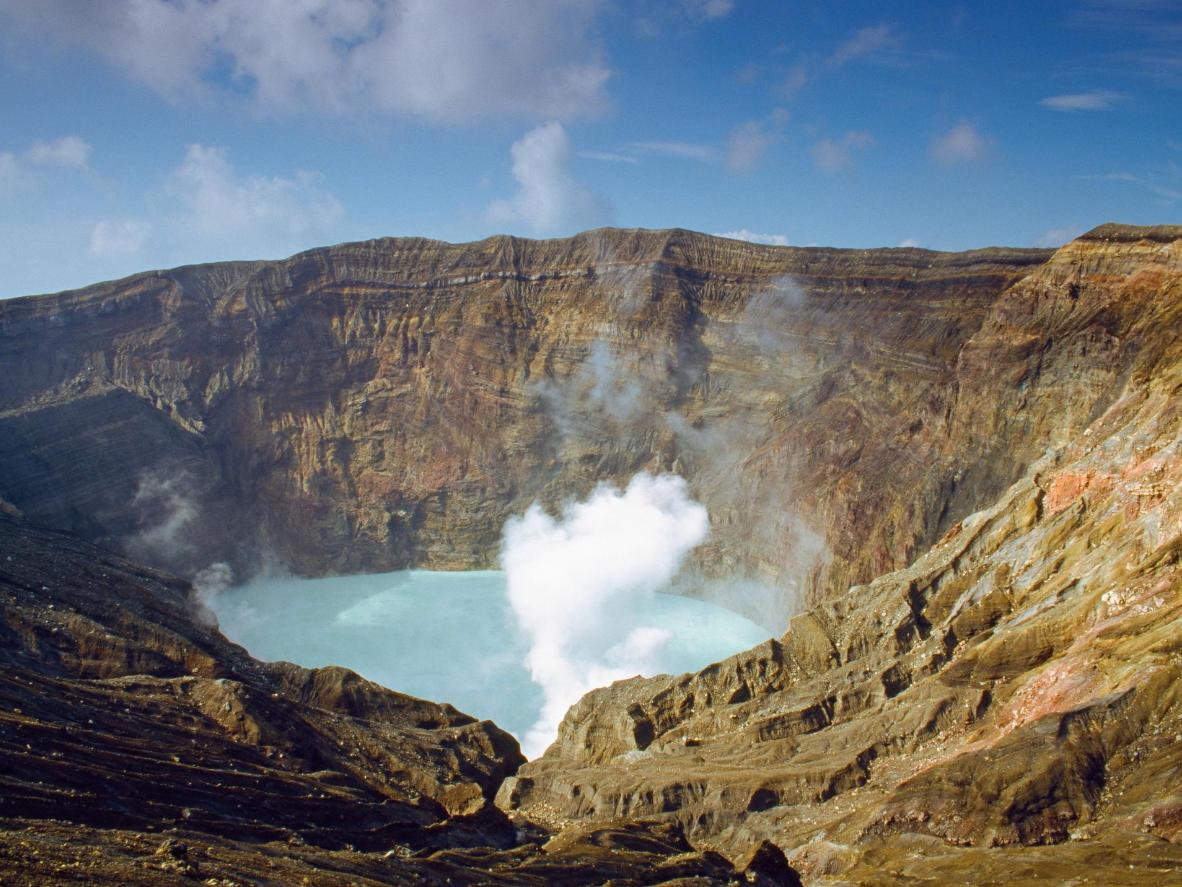 Aso Kujū National Park, Kumamoto/Oita
Home to the Kuju Mountains and Aso Mountain—one of the largest active volcanoes in Japan—Aso Kuju National Park is famous for its dramatic landscapes. It's also one of Japan's oldest national parks, with an established network of hiking trails and the hallowed Aso-shrine, one of the oldest shrines in the country. Rent a car and embark on a scenic road trip. Or walk verdant valleys and take a look inside Mount Aso's ancient but active crater before taking a dip in one of the local hot springs. You'll find some of Japan's best onsen towns in the vicinity, including Kurokawa, Yufuin, and Beppu. Stay at Minshuku Asogen, a ryokan with its own onsen, just a few miles from Mount Aso.