The myriad health benefits of spending time amid nature have been getting a lot of airtime lately, with 'time spent outdoors' increasingly prescribed by doctors and practices like 'forest bathing' (or shinrin-yoku in Japan) becoming more and more mainstream.
As a nation with forest covering 32% of the country and several ancient woodlands to explore, Germany is overflowing with places perfect for connecting with your senses and the natural world. So to soothe the mind and lifts the spirits with a spot of woodland walking, head to any one of these forest utopias.
Wershofen, The Palatinate Forest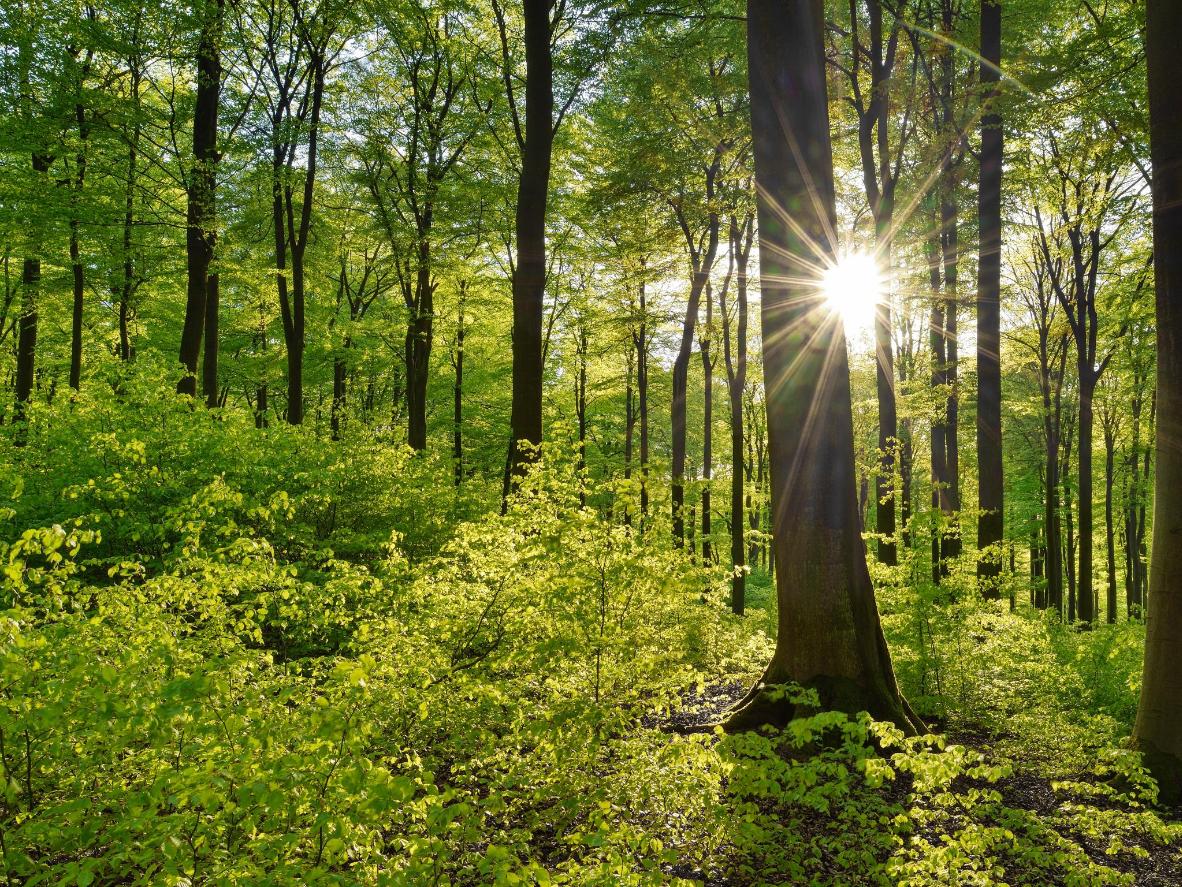 Be guided through the Palatinate Forest by local forester and government wood ranger, Peter Wohlleben
Wershofen is a town deep in western Germany's Palatinate Forest, equidistant from the cities of Koblenz and Cologne. While it's far from a household name, nature enthusiasts have been visiting in droves ever since the publication of bestselling book, The Hidden Life of Trees, by local forester and government wood ranger, Peter Wohlleben. In the book, Wohlleben describes a tree network that he refers to as the 'wood wide web', which allows them to communicate with and physically support each other by passing nutrients through their roots. Those who make the pilgrimage to the section of forest that Wohlleben cares for can attend lectures and seminars or enjoy a riveting two- to three-hour hike (in English) through the woods with the author himself. The hiking groups at the Wohllebens Waldakademie are always small, allowing you to personally ask Wohlleben all of your pressing questions. There are forestry trainings available, too, if you're still craving more. Stay at local hotel, Landgasthaus Pfahl.
Neuschönau, The Bavarian Forest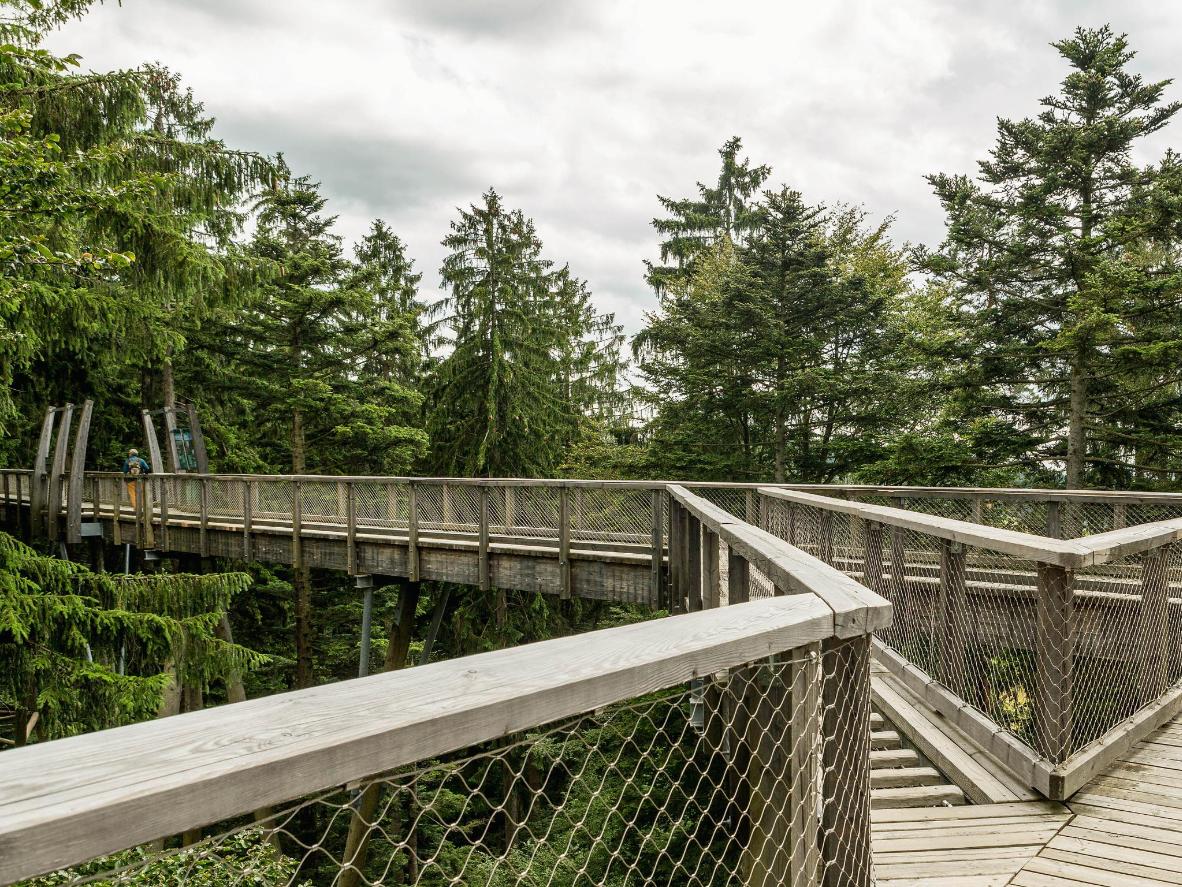 Stroll along the Bavarian Forest National Park's treetop walkway (Baumwipfelpfad)
The Bavarian Forest (Bayerischer Wald) is the largest continuous woodland area in Europe, running along the German-Czech border and covering 241 square kilometres. The eponymous national park was Germany's first and is a natural utopia of glacial lakes, mountains and wild, dense forest home to rare wildlife species. There are around 300km of hiking trails snaking through the skyscraping trees and the park is only two and a half hours away by car from Munich. For a longer trip, base yourself in the town of Neuschönau, a launchpad for the area's numerous trails as well as the nearest town to the national park's treetop walkway (Baumwipfelpfad). This accessible and family-friendly spiralling wooden path winds into the sky, taking you to an observation deck 25 metres above the beech, fir and spruce trees for panoramic views of Bavaria and the mountains of Czechoslovakia in the distance. Stay at Pension Salzsäumer, an old Bavarian chalet where rustic suites have forest views, gingham bedding and prettily painted wardrobes.
Lauterbach, The Hainich National Park
Sprouting wild garlic covering the floor of Europe's last remaining Central European Beech Forest
Home to Europe's last remaining Central European Beech Forest, The Hainich Forest and its national park in southeastern Germany used to be used for military training but these days form a painstakingly protected stretch of primeval woodland. The best way to experience it is on foot, traversing the untouched landscape of ash, maple, linden trees, past sprouting wild garlic and orchids growing in the shade while woodpeckers tap on trunks and bats hang from branches. Trails are well-marked and most are circular, while the 530 metre-long Canopy Walk takes you deep into the forest towards a 44-metre-high observation tower, providing information on the park's flora and fauna as you walk. Make your base the village of Lauterbach, which is located on the western edge and has an entrance to the park. Fehrenbacherhof Naturgästehaus is a family-run guesthouse in Lauterbach with wood beam ceilings and a breakfast made up of local produce.
Freiburg im Breisgau, The Black Forest
Expect rolling hills of thick pine, fir, beech and oak trees, shaded valleys and serene lakes in the Black Forest
Head to the medieval university town of Freiburg im Breisgau to venture deep into the Black Forest, known for its rolling hills of thick pine, fir, beech and oak trees, its shaded valleys, serene lakes, emerald grassy meadows and clear streams cascading over mossy rocks. You can immerse yourself in nature easily in this part of southwestern Germany, with a number of tours available through the Black Forest National Park on foot, by bike or even by canoe and kayak. Follow the park's adventure trails or go on a guided hike with companies like Black Forest Tours, which uses a network of locals to help tourists access obscure or little-known parts of the wilderness. Check into Apartment-Freiburg-Exclusive, a modern apartment with marble floors, mid-century furniture and floor-to-ceiling windows that overlook the city and surrounding greenery.
Rathen, Saxon Switzerland National Park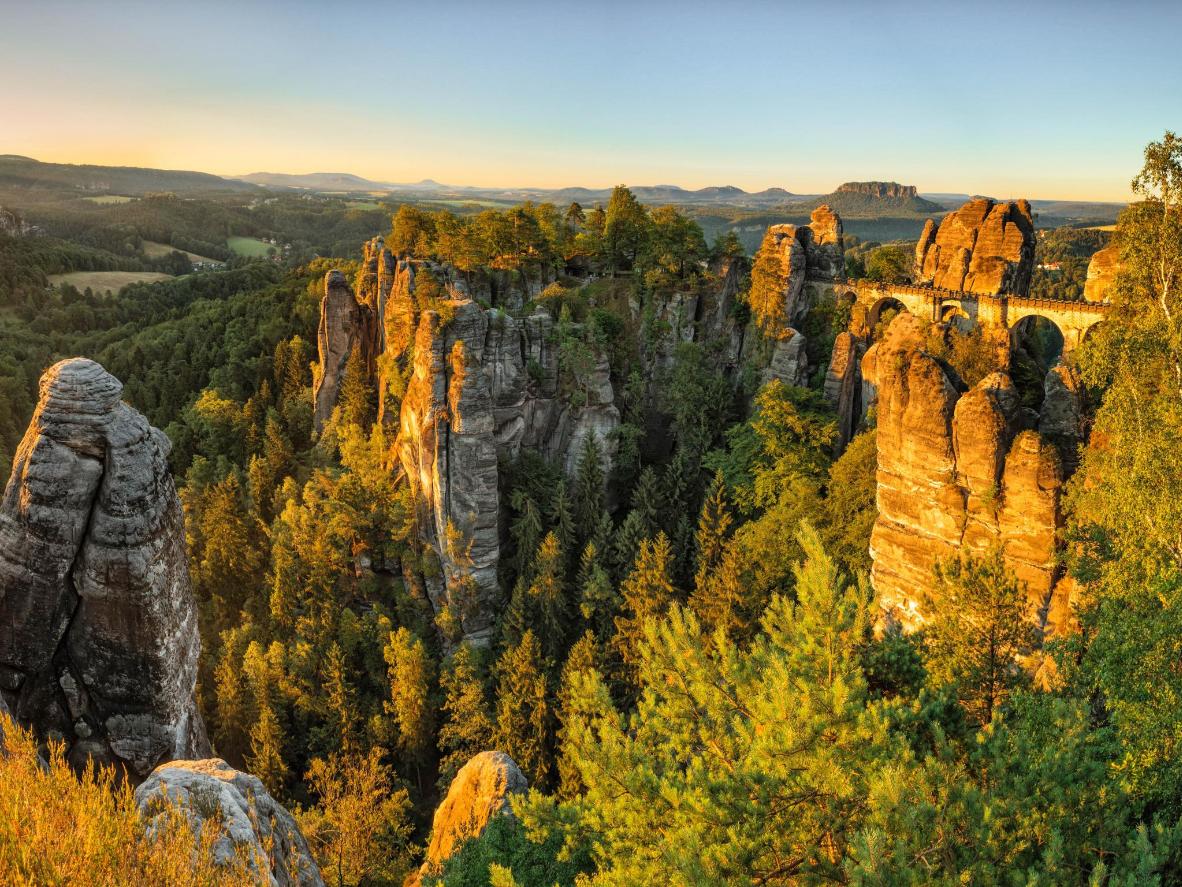 The Bastei Bridge and rock formation in the Saxon Switzerland National Park
Though it might be better known for its ancient and mystical rock formations – including the mighty Bastei (a 194-metre-tall natural monolith that looms over the Elbe River) – the Saxon Switzerland National Park also possesses misty, deep green forest through which lynx prowl and hawks and eagles soar overhead. Visitors can explore over 1,200km of pine-scented trails on foot, with many guided tours available including boat tours cruising the Elbe River. The park can be reached as an easy day trip from Dresden but if you'd rather stay closer and for longer, then base yourself in Rathen, a village that serves as a gateway to the forest and is located at the base of the Bastei. After a day of outdoor adventures, relax in the sauna or steam room at Hotel Elbiente.