Why choose between enjoying a city break and getting your fix of vitamin sea when you can have both? These city-plus-beach destinations will have you strolling along shop-lined seafronts and sandy shorelines without ever having to kick off your flip-flops.
Santa Monica, CA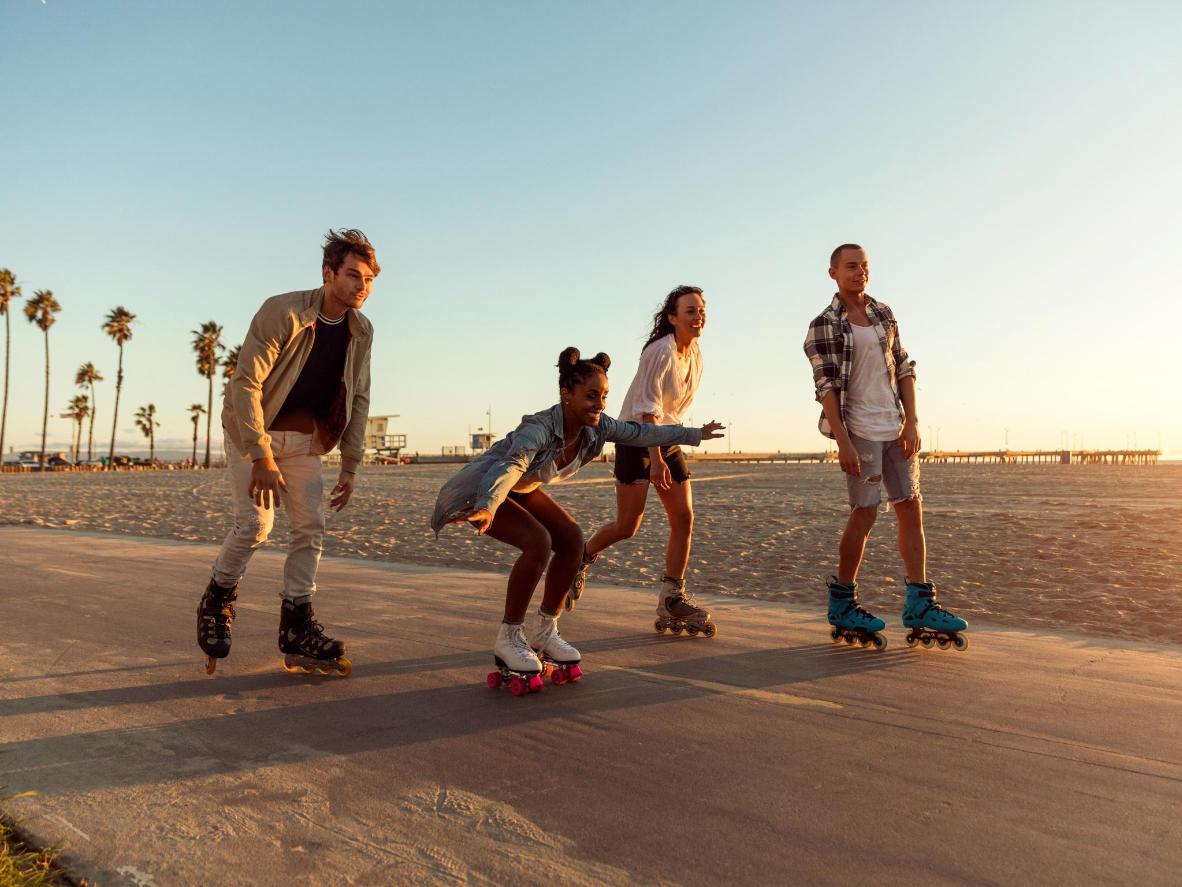 Dash between LA's bustle and seaside relaxation in Santa Monica
Santa Monica's 100-year-old pier and accompanying stretch of ivory sand is arguably the best bit of Los Angeles. Its wide beach, powder-blue wooden lifeguard towers, and the landmark Ferris wheel are a stark contrast to LA's urban sprawl.
There's also a popular farmers' market full of fresh local flavors to satisfy any foodie. But if dining in is more your style, Santa Monica is peppered with irresistibly chic restaurants – and we're not just talking about your average LA salad and green juice combo. This relaxed coastal community has a different feel than its downtown counterpart. You can move between Santa Monica and LA via public transportation or enjoy the freedom of the open road by renting a car.
When it comes to choosing a relaxing stay, the outdoor swimming pool at Casa Del Mar is practically on the beach. Relax on your retro beach chair and watch the lights of the beach carnival come alive in the evening.
Busan, South Korea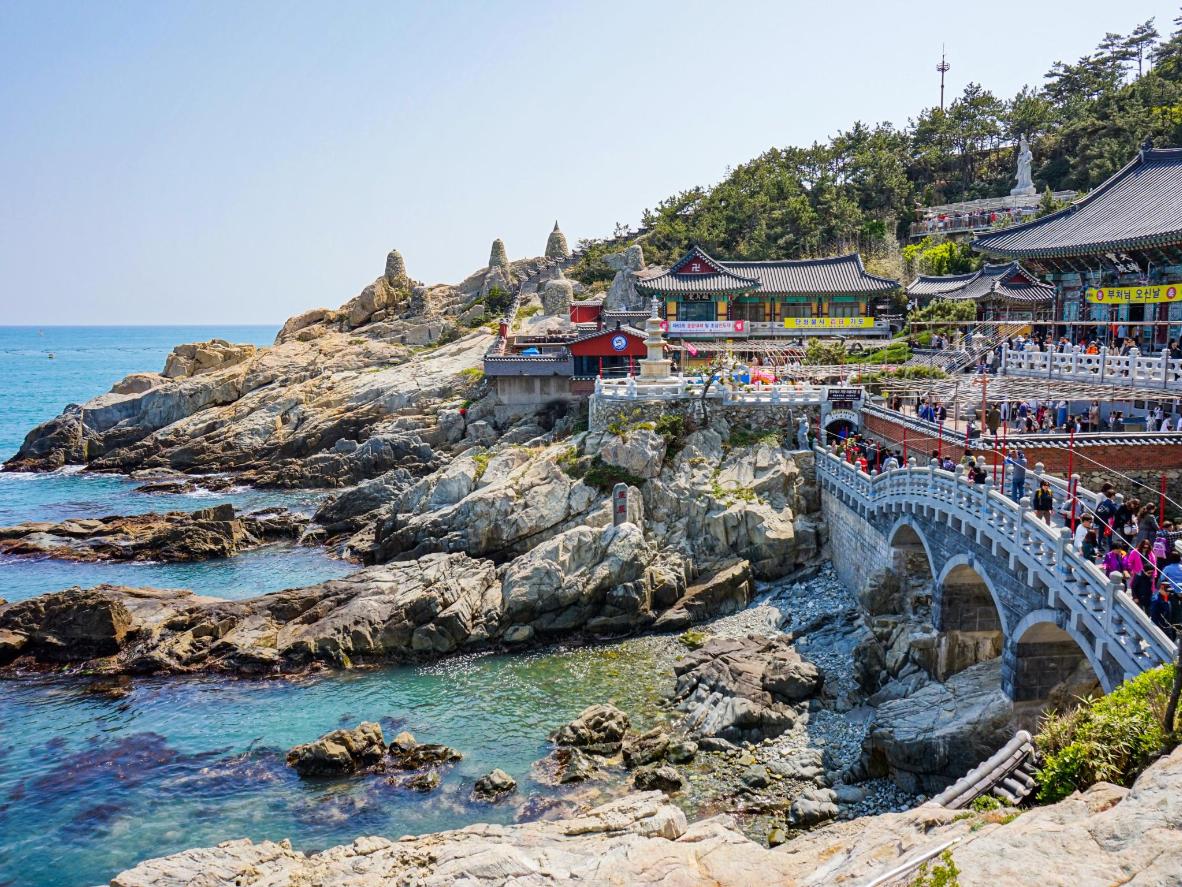 South Korea's second-largest city also features miles of idyllic coastline
A thriving art scene, bustling nightlife, and miles of sandy coastline make Busan a top choice for a city-beach break. Surrounded by green mountains, this port city cascades toward the shoreline like a sea of colorful concrete, thanks to landmarks such as Gamcheon Culture Village – a neighborhood known for its steep steps, twisting alleyways, and rainbow-hued buildings.
Busan also features some of the best bars, cafés, and restaurants in South Korea. Its proximity to the Yellow Sea and the Sea of Japan means you'll be able to find some of the freshest seafood on the planet here. Rise before the sun and experience the bustling Jagalchi Market. It's South Korea's largest fish market, and you'll be able to enjoy sea-to-table fare in many of the nearby restaurants.
Beyond food, Busan also has a lively student culture and a large international community, making the city even more vibrant. But if you prefer to take a break from the neon-lit streets to catch some sun, look no further than Haeundae Beach, where the promenade is lined with bars and eateries. Looking for something more laid back? Check out the much quieter Gwangalli Beach, home to the famous Gwangan Bridge, which is lit up every night in kaleidoscopic hues.
Busan is an easy destination to reach by flight, as the city has an international airport. Alternatively, if you're traveling from Seoul, you can catch a high-speed train to Busan – it departs regularly, and the journey only takes three hours. Stay close to Haeundae Beach at Hotel Kyungsung.
Arambol, India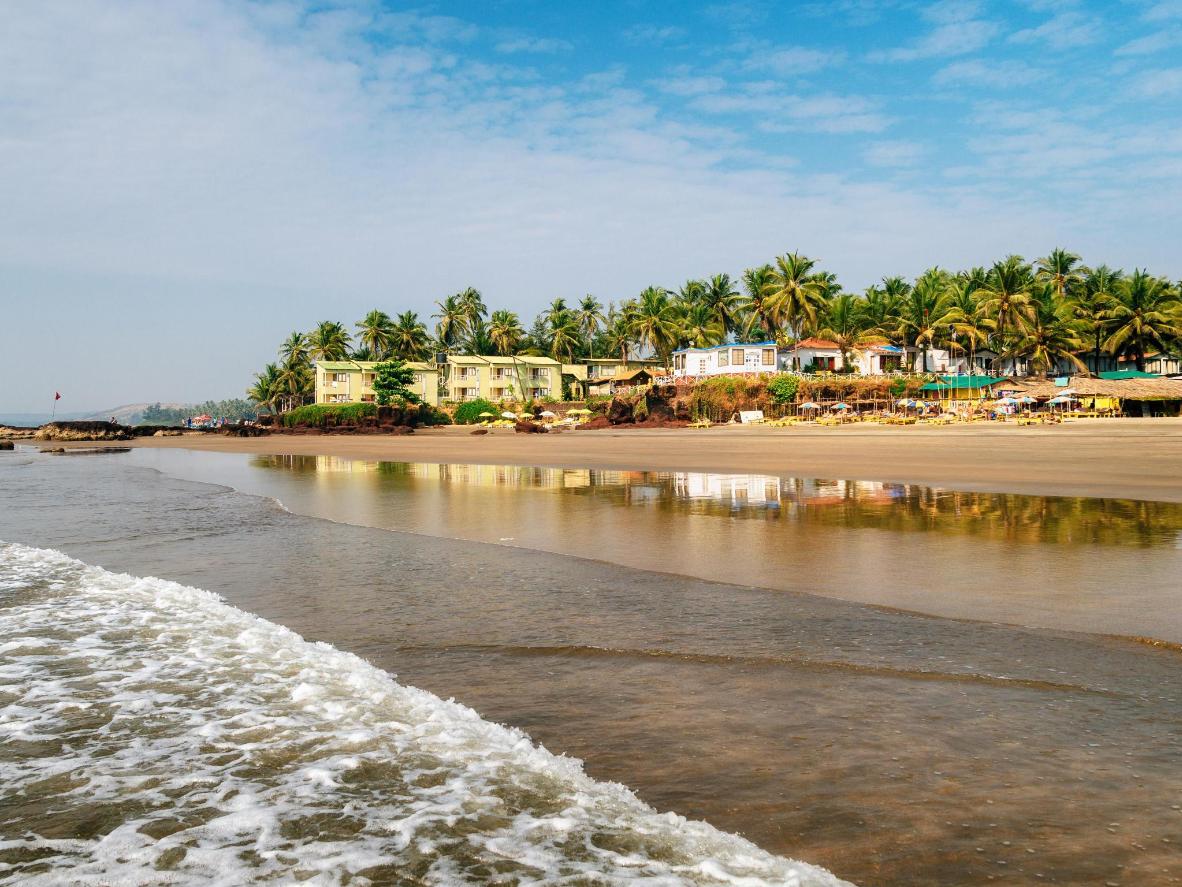 Sunsets in Goa are best enjoyed from the shores of the Arabian Sea
Although it's actually a village, Arambol is only a short drive from Goa's larger cities. It's special for its sleepy, hippie-like charm – thatched roofs cover the wooden shacks and palm trees follow the curve of the coastline.
This coconut tree-lined slice of heaven invites you to dip your toes in the warm waters of the Arabian Sea while enjoying a chill vibe that will make the sounds of India's clamorous metropolises feel a world away. Escape into relaxation as food vendors and musicians tend to your senses – and watch yogis practice their devotion to nature's deep blue beauty at sunrise each morning. Other popular beaches, such as Panjim or Palolem, are easily accessible and feature city-style nightlife.
Craving some cityscapes? Explore Goa's Portuguese heritage in Panaji, the state's capital city. It's bursting with life and a patchwork of pretty architectural styles. This is especially evident in neighborhoods such as Fontainhas, also known as the Latin Quarter. If you prefer staying in the city, check into the luxurious rooms of Taj Resort & Convention Centre Goa in Panaji, or drift off to the sounds of the crashing waves at GoYm Resort back in Arambol.
Wasaga Beach, Canada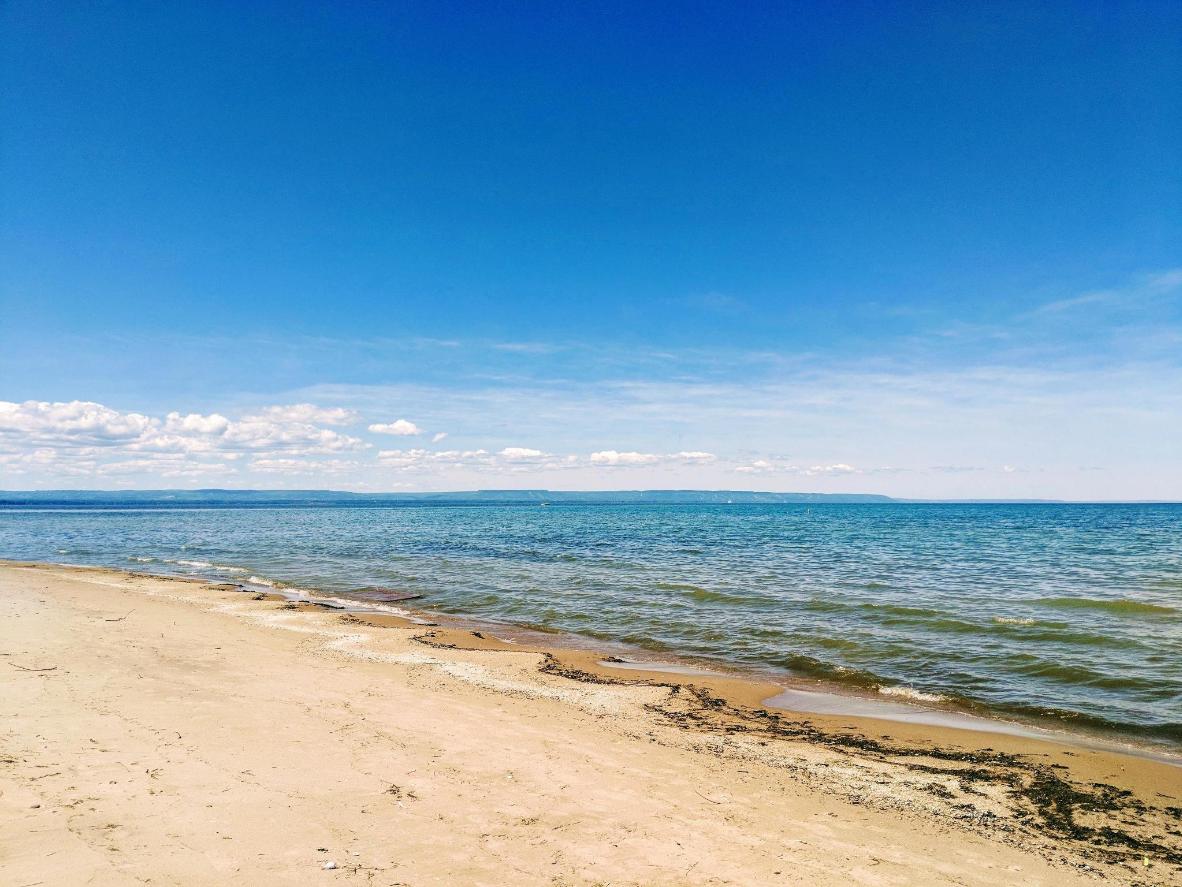 Wasaga is the world's longest freshwater beach just a short drive from Toronto
Not far from Toronto is Wasaga Beach, the world's longest freshwater beach that sits on the shores of the Great Lakes. It was once awarded Blue Flag status, a coveted eco label reserved for beautiful, well-preserved beaches. The clear, shallow water and lack of tide also make Wasaga Beach a family-friendly adventure.
Bars line the beach boardwalk, offering summery cocktails and food during the warmer months. This is when this Ontarian town is in full swing, with music and beach barbecues covering the soft sand. The surrounding area is carved up by woodland trails, winding streams, and secret swimming holes to captivate your wild inner child. With Toronto just under a two-hour drive away, you can easily get your city fix of skyscrapers and bustling streets.
Saga Resort has everything you might need for your city-beach vacation, including a hot tub, BBQ, and outdoor swimming pool – and it's all only a six-minute walk from the beach.
San Sebastián, Spain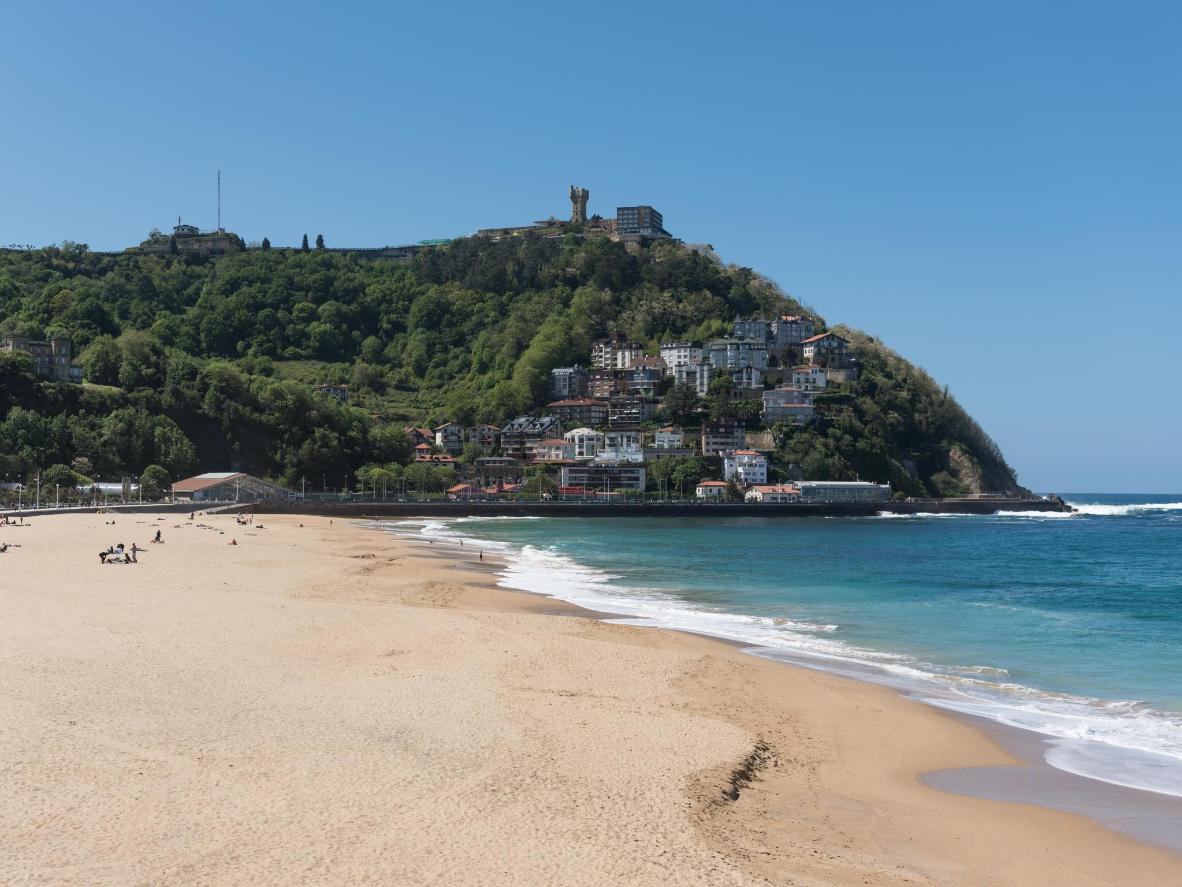 Explore sunbaked coastlines and tuck into world-class cuisine at San Sebastián
The city of San Sebastián is situated on the rugged coast of Northern Spain in the beautiful Basque Country. The Gothic-Basque architecture of this ancient port city creates a charming cityscape of picturesque landmarks flanked by idyllic stretches of sand. The deep emerald waters of the Bay of Biscay separate La Concha beach's crescent-shaped coastline from the forested hills on either side.
During the reign of Queen Regent Maria Cristina, San Sebastián was the summer capital of Europe. Thousands used to flock to catch the sun and surf here while tucking into some truly tasty local delicacies. Decades later, foodies are still heading to the city to sample some of the world's finest gastronomic delights at any of its many Michelin-starred restaurants. But you don't need to break the bank to have a great meal here. Enjoy a plate of pintxos—a type of local tapas—washed down with a refreshing glass of Txakoli, a local sparkling white wine.
Stay in the heart of the Old Town at Pension Alameda, located within walking distance of La Concha and several historic squares packed with delightful eateries.
Get ready for the beach with this curated playlist of tunes that are sure to make waves, chosen by our Travel Community.