While travel may be off the cards at the moment, there's nothing to stop our imagination running riot. Now is the time to be dreaming and planning.
To work out where you want to go, delving into the world of literature is a great place to start, promising evocative descriptions of experiences, sights and scenery from all corners of the globe. Which is why we've rounded up the ultimate reads for some of the world's most popular travel destinations, books that are guaranteed to whisk you away.
Travel to Tokyo reading Norwegian Wood, by Haruki Murakami
Explore Tokyo's busy subway system via 'Norwegian Wood'
It's practically impossible to talk about Japanese literature (let alone Tokyo-based literature) without talking about Haruki Murakami. In his book, Norwegian Wood, the author focuses on three young friends: Toru, Naoko and Midori, who meet during the 1960s student protests in Tokyo. The Japanese capital may have somewhat changed since then but this story provides interesting historical context for a trip to Tokyo one day. You'll be able to live out the novel and Murakami's love for Tokyo's urban infrastructure by checking out the city's fabled subway system; characters Watanabe and Naoko meet each other by chance on the city's Chuo Line and critical discussions take place on the train to Ueno Station – a perfect place to end the day at, taking in the lake views in Ueno Park. Find more on what to read and watch before visiting Tokyo.
Travel to Buenos Aires reading The Motorcycle Diaries by Ernesto 'Che' Guevara
Ernesto 'Che' Guevara began his Motorcycle Diaries in Buenos Aires
Ernesto 'Che' Guevara may be remembered as a revolutionary, leader and political figure but he was also a talented storyteller whose documentation of a motorcycle road trip through South America makes for an enthralling read. The Motorcycle Diaries begins in Buenos Aires, from where Che set off on his two-wheeled travels. These days, mural tributes to Guevara can be found dotted around the city – visit the San Telmo district to see one of the most well-known. Or, do a full street art tour with Graffitimundo, a non-profit arts organization that runs workshops and tours championing the local urban art scene. You can also visit the organization's own dedicated gallery space in the barrio of Palermo Hollywood. Find more on what to read and watch before visiting Buenos Aires.
Travel to London reading Small Island, by Andrea Levy
The Ritzy in Brixton
World War II infamously rewrote swathes of London's landscape and the aftermath inspired Andrea Levy's award-winning novel, Small Island. The story follows the fortunes of a Jamaican couple who move into a tiny flat in South West London and the claustrophobic-yet-hopeful atmosphere of post-war London is perfectly captured by Levy's sparse prose and borough-hopping narrative. Find more on what to read and watch before visiting London.
Travel to Los Angeles reading Bathwater Wine, by Wanda Coleman
See the Watts Towers by Simon Rodia
Wanda Coleman was a poet from the Watts suburb of LA, whose writing conveys the character of a sensual, humorous and deeply-flawed city. Bathwater Wine is a product of Coleman's experiences growing up in the shadow of the famous Watts Towers – 17 connected metal and ceramic towers installed by artist Simon Rodia on his own property. These twisted, corkscrew sculptures dominate the southern Los Angeles skyline and their influence can be seen in the way Coleman builds her poems to push the reader further with each line.
Find more on what to read and watch before visiting Los Angeles.
Travel to Edinburgh reading The Heart of Midlothian, by Sir Walter Scott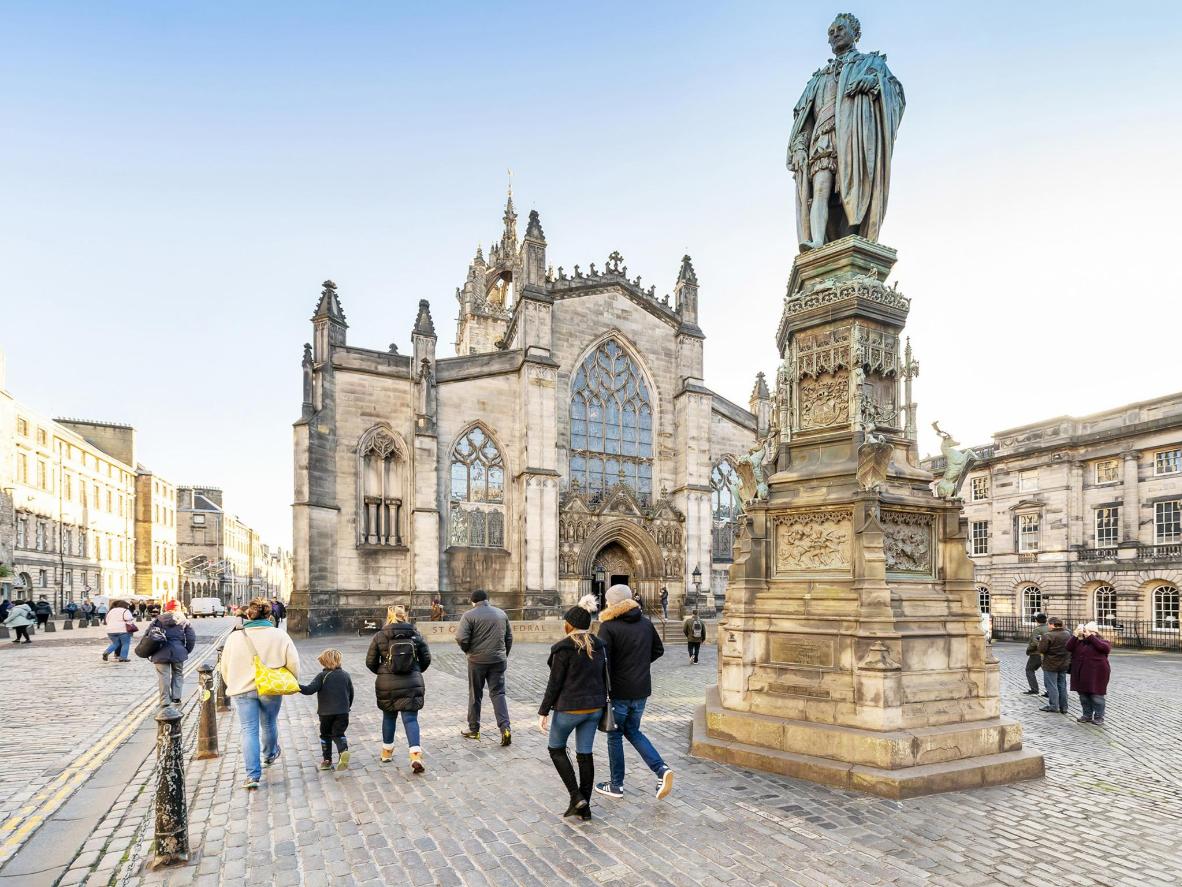 The story's key site once stood in the historic heart of the city
Take a trip back to 18th-century Edinburgh with Sir Walter Scott's The Heart of Midlothian. Set at the time of the real-life Porteous Riots in 1736, this book tells a tale of political unrest, religion and one woman's quest for justice. A significant setting for the story is the Old Tolbooth prison, a medieval jail feared for its horrific conditions and brutal punishment. While the notorious Old Tolbooth was demolished in 1817, today you'll find a heart-shaped mosaic called the Heart of Midlothian in its place – just a few minutes from a monument to Sir Walter Scott himself. Find more on what to read and watch before visiting Edinburgh.