Biking has become a popular urban transit option for more and more Americans in recent years. It's healthier, less expensive, better for the environment, and—quite simply—more fun than driving. However, since most major American cities were designed with cars in mind, they lack the bike-friendly infrastructure you'd find in European cities like Amsterdam or Copenhagen.
That doesn't mean the US isn't pedaling hard to catch up. We've handpicked the cities that are leading the way for going green on two wheels.
Denver, Colorado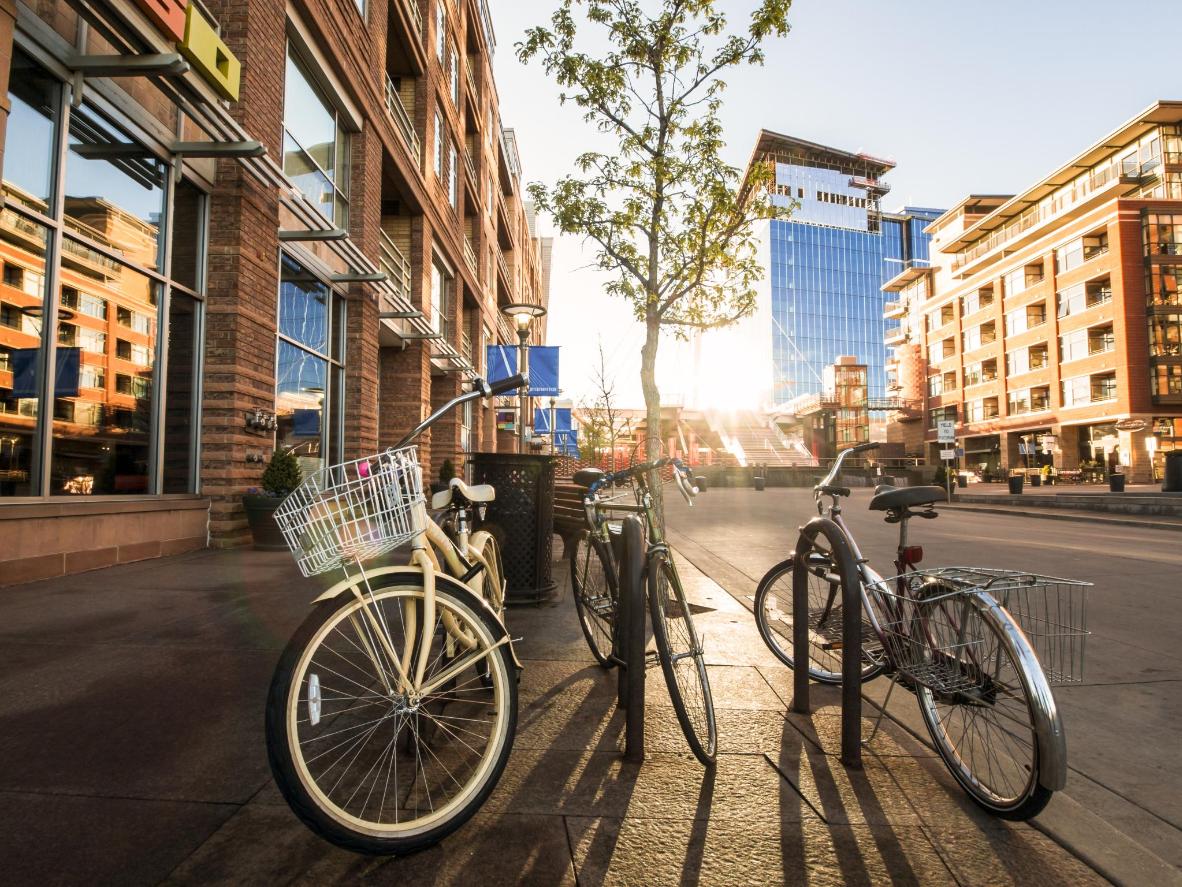 Ride with the sunrise through downtown Denver, and beyond
Denver's 85+ miles of paved trails make biking all around town easy, and even connects riders to trails that lead to the breathtaking nature beyond the city limits. Closer to downtown, Cherry Creek Trail is the most popular pathway, while the Greenway Trail links 30 miles' worth of riverside parks and with informational signs that were posted by the Colorado Historical Society all along the way. For a full-day excursion, the Bear Creek Bike Trail goes to the town of Morrison, which is the gateway to the incredible Red Rocks Park & Amphitheatre.
The Kimpton Hotel Born is the perfect blend of modern and rustic design, and is just a two-minute ride to both the Cherry Creek and South Platte River Trails.
Boston, Massachusetts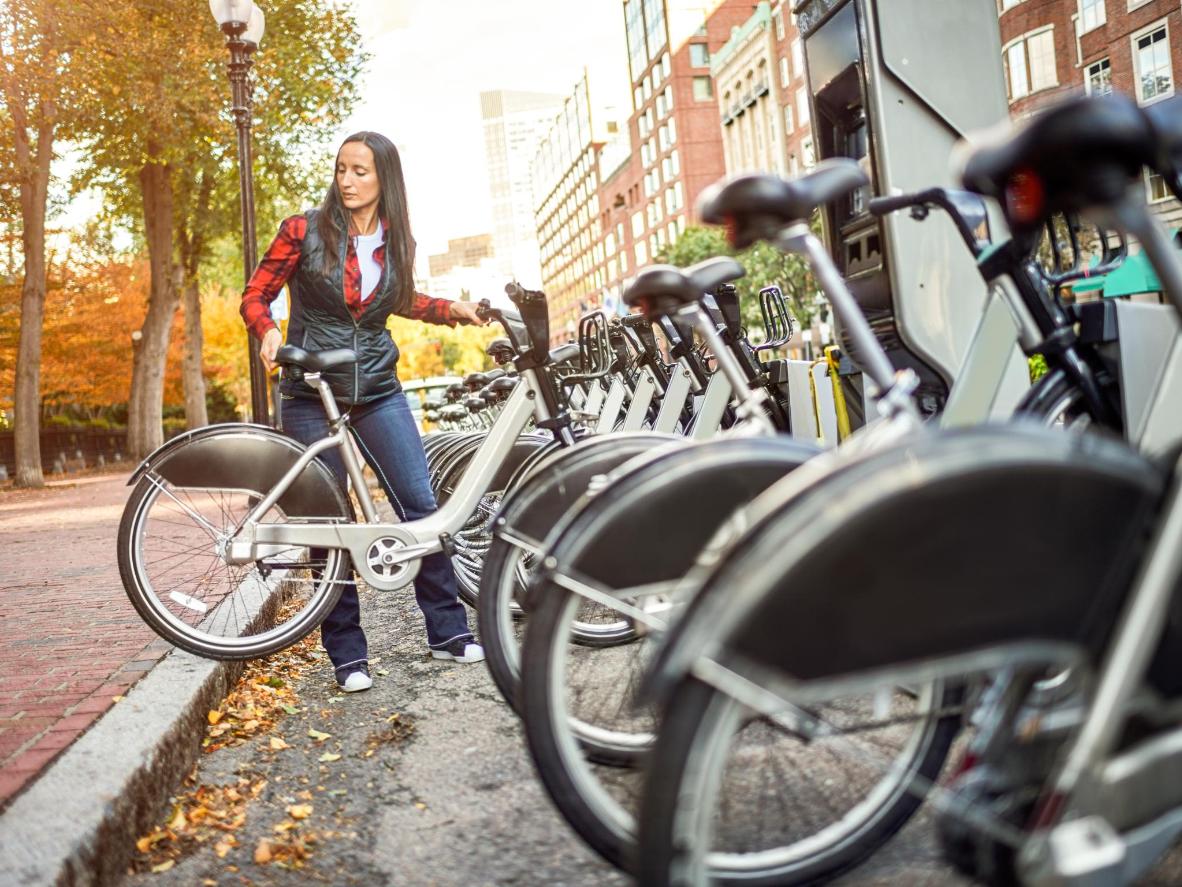 Take a ride through Boston's historic, cobblestone streets
In the last ten years, Boston has revitalized its cycling culture with an ever expanding bike-share system and miles of new bike lanes and trails. The Charlestown Waterfront Bike Path is a mile-long stretch packed with history and scenic views. Then there's the Emerald Necklace, a huge network of pathways linking 1,000+ acres of greenspace, a zoo, and an arboretum, promising something for everyone along the way.
Located right by the Charles River, The Gryphon House has a cozy, historic feel, perfect for relaxing after a long day of pedaling.
Madison, Wisconsin
Cruise along the lake shores in Wisconsin's capital
Milwaukee is home to Harley Davidson, but Madison is Wisconsin's capital for two-wheel travel (without a motor, at least). The entire city has a comprehensive network of bike paths to get cyclers wherever they want – quickly and safely. After an easy lakeshore cruise through Olin Park, continue to the Lake Monona Loop and ride the bike elevator up to the top of Monona Terrace, designed by Frank Lloyd Wright.
The Graduate Madison is a fun blend of modern kitsch, and sits halfway between the picturesque trails that run along the shores of both Lake Monona and Mondota.
Chicago, Illinois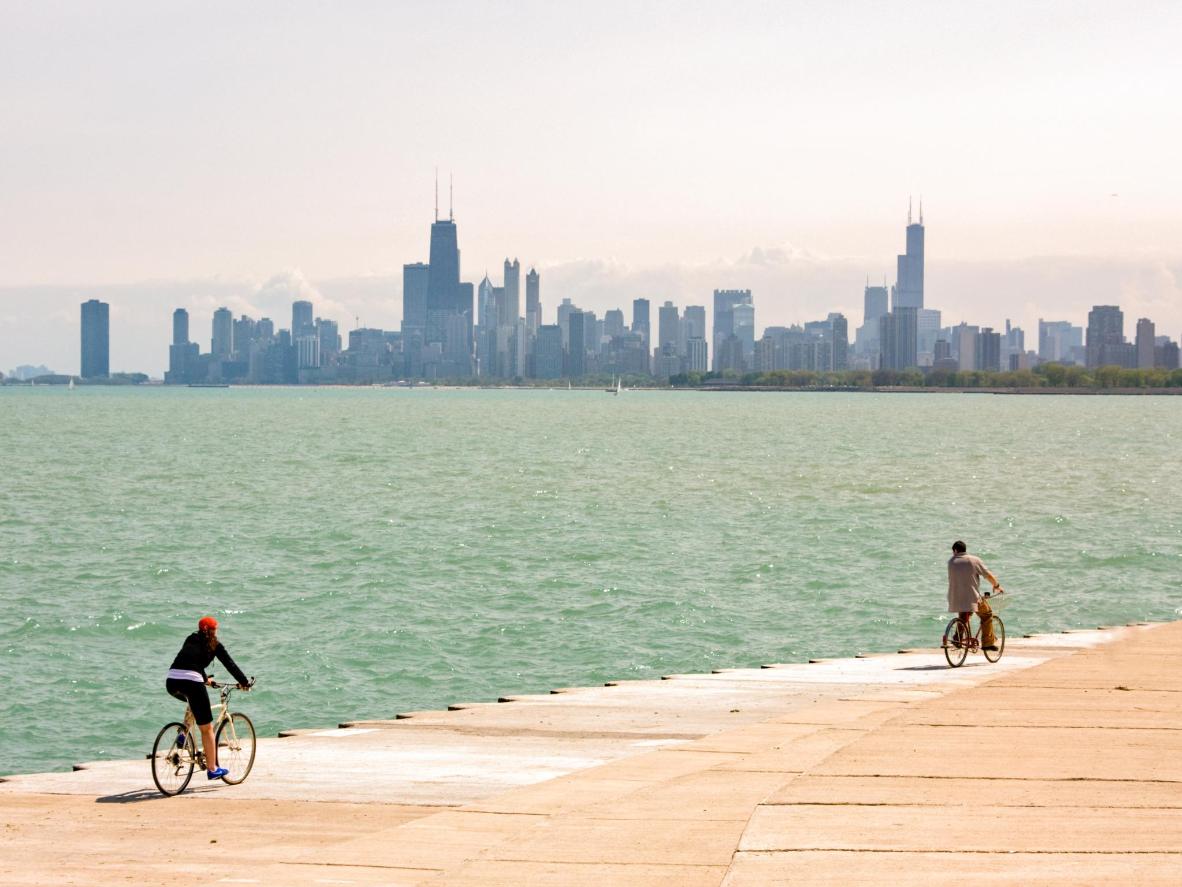 Start at the trail's northern end to enjoy the skyline
Flat, easy terrain paired with strategic urban planning make Chicago one of the country's most bike-friendly cities. Its bike sharing system has about 600 stations around town and along its 100+ miles of dedicated bike lanes. Two scenic yet quick trails are the Chicago Riverwalk downtown and The 606, an elevated park built on an abandoned train line. For a more ambitious ride, the Lakeshore Trail runs along the coast of Lake Michigan for over 18 miles, passing key landmarks Millenium Park and Navy Pier.
The historic Majestic Hotel is perfectly located as a morning launch pad for a ride down Lakefront Trail, then as a homebase to catch a ballgame at Wrigley Field in the evening.
Eugene, Oregon
Pedal your way across the Williamette River
Even though Eugene is a relatively compact city, it consistently ranks high alongside larger cities that have big budgets to invest in bike-friendly infrastructure. For one, it has more bridges for cyclists than cars. While the majority of the city's main arteries include designated bike lanes or access to shared-use paths, the quick access to some of the nations best mountain biking is what sets Eugene apart from the rest.
The Williamette River Bike Trail and Alton Baker Park nestled in the city, but are so thickly forested at parts you feel like you're deep in the wilderness. For easy access to both, book a room at the EVEN Hotel.