Mounds of fresh snow crunching under your feet and night skies illuminated by the Aurora Borealis – Nordic winters are like no other. And what better way to experience them than a cozy stay in an igloo, wrapped up in a thermal sleeping bag and thick blanket? Here's our pick of Europe's coolest lodgings.
Arctic Snow Hotel & Glass Igloos – Sinettä, Finland
Arctic Snow Hotel
A remote retreat in rural Finnish Lapland, Arctic Snow Hotel has suites sculpted entirely from snow and ice. Guests can unwind in the snow sauna or outdoor hot tub, and request a wake-up call to see the magnificent Aurora Borealis. There's even an on-site ice chapel and bridal suite for anyone who wants to say "I do" in a truly unforgettable location. Or if you'd prefer, you can sleep under starry skies in a glass igloo. With insulated glass roofs, these modern igloos offer unrestricted views for you to marvel at the Northern Lights from the comfort of your bed. For the authentic Arctic Circle experience, you can also enjoy a meal at the ice restaurant or try local activities like snowshoeing, ice sculpting, and ice fishing.
Santa's Igloos Arctic Circle – Rovaniemi, Finland
Santa's Igloos Arctic Circle
The glass-roof igloos at Santa's Igloos Arctic Circle in Rovaniemi come with lavish interiors, fluffy robes, and a rain shower in the en-suite bathroom. With a breakfast box delivered straight to your room, you can enjoy a leisurely breakfast in bed while gazing up at the Arctic sky. With attractions like Santa Claus Village, Arctic Golf Finland, and Ounasvaara Ski Resort just a short drive away, you'll never run out of things to do.
Kirkenes Snowhotel – Kirkenes, Norway
Kirkenes Snowhotel
At Kirkenes Snowhotel, you're free to choose between spacious snow suites and cozy wooden cottages modeled after traditional Sami hunting huts. Both options include breakfast and dinner in the restaurant, as well as access to the sauna. The friendly staff can also organize activities like husky rides and snowmobiling. Kirkenes isn't just a winter destination either. In the summer, you can go hiking, fishing, and king crab rafting in the surrounding countryside.
Icehotel – Jukkasjärvi, Sweden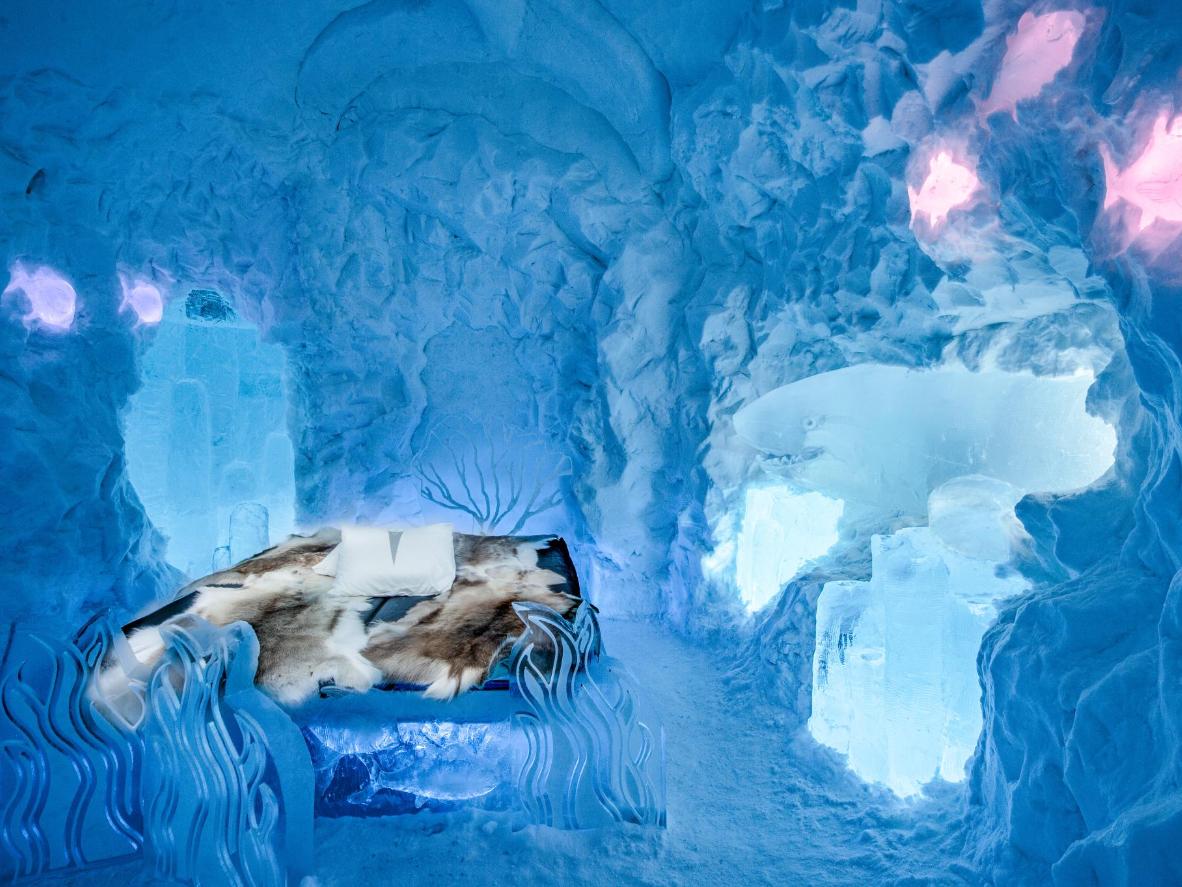 Icehotel
The rooms at Jukkasjärvi's Icehotel are made entirely of ice from the neighboring Torne River, and feature elaborate frozen sculptures by international artists. There's also an à la carte restaurant and lounge with board games, ideal for a cozy night in. Those keen to explore the Swedish countryside will find Luossavaara mountain and ski resort just 12 miles away.
Sorrisniva Igloo Hotel – Alta, Norway
Sorrisniva Igloo Hotel
The restaurant at Sorrisniva Igloo Hotel in the Norwegian coastal town of Alta serves up beautifully presented local specialties, including freshly caught trout and king crab, cloudberries and game, alongside locally grown vegetables. To work up an appetite, visitors can book a snow safari or dog sled tour – or just lounge the day away in the open-air hot tub.