To help you find the ultimate travel hotspots for next year, Booking.com has delved into global booking trends** to share the top 10 trending destinations for 2023 – combined with tips from Booking.com's community of travelers. From spiritual seaside towns to artistic capitals and hidden gems, this list of the top 10 trending places, experiences, and stays will inspire a year of incredible travel.
São Paulo, Brazil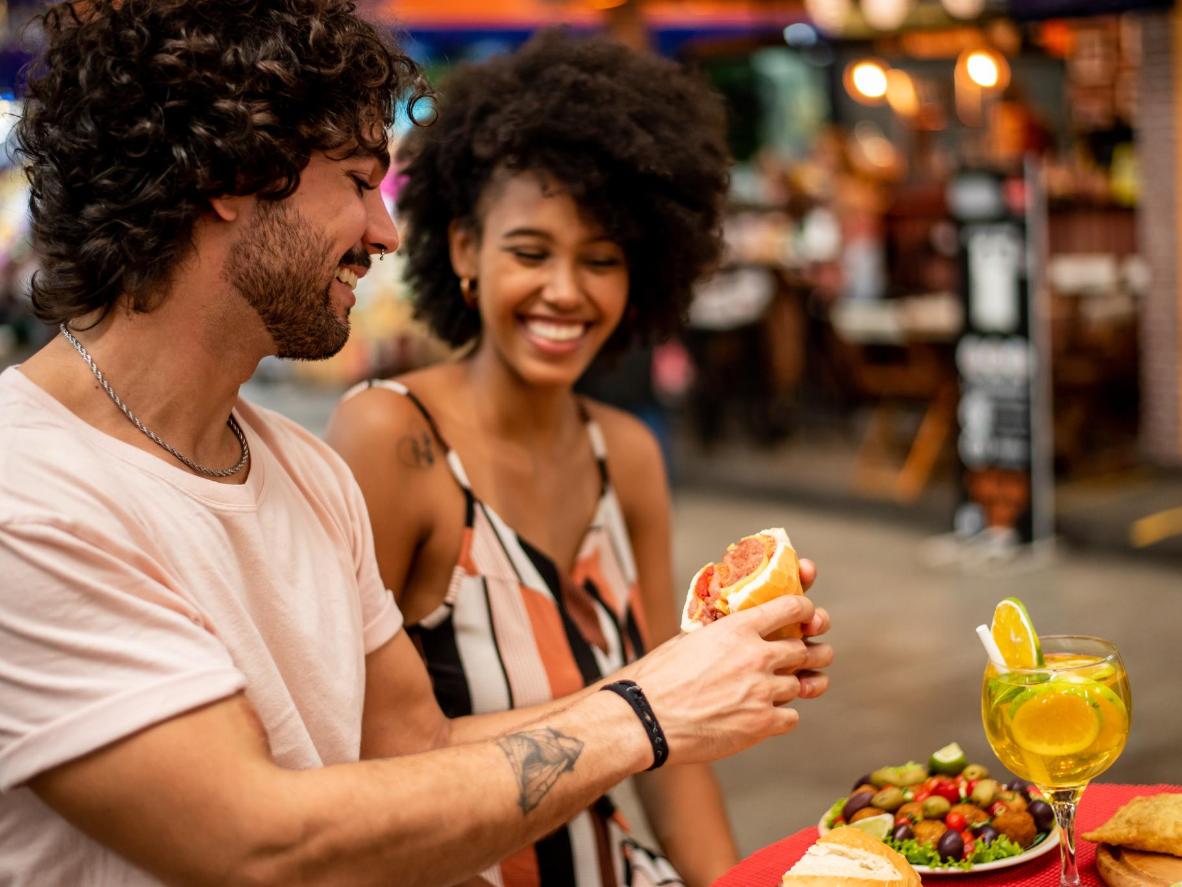 Enjoy a traditional Mortadella sandwich from a São Paulo street food stand
The energetic metropolis of São Paulo is home to 20 million locals known as "paulistanos" and a buzzing nightlife scene with underground clubs, art house cinemas, experimental theater, and Traditional Samba and Pagode Experiences. The city also has fantastic street food and nine of Brazil's 14 Michelin-starred restaurants, where you can sample delicacies like "coxinha" (a golden shredded chicken croquette) and "feijoada" (a rich black bean stew). For fashion-lovers, a stroll down Rua Oscar Freire—a tree-lined street with luxurious boutiques—is a must. For some downtime, escape the city with a short drive to the northern coast of the state of São Paulo, a hidden gem where the beaches rival those in Rio.
Traveler tip from Daniele:
"I'd recommend dinner at Skye Restaurant & Bar on the rooftop of Hotel Unique. Or Terraço Itália, a restaurant at the top of the Edificio Italia skyscraper, to enjoy breathtaking urban views and taste Michelin-starred local cuisine."
Where to stay: L´Hotel Portobay São Paulo is just a short walk from São Paulo's vibrant Avenida Paulista and the Modern Art Museum. Enjoy a caipirinha, Brazil's national cocktail made from cachaça, sugar, and lime at the piano bar.
Budva, Montenegro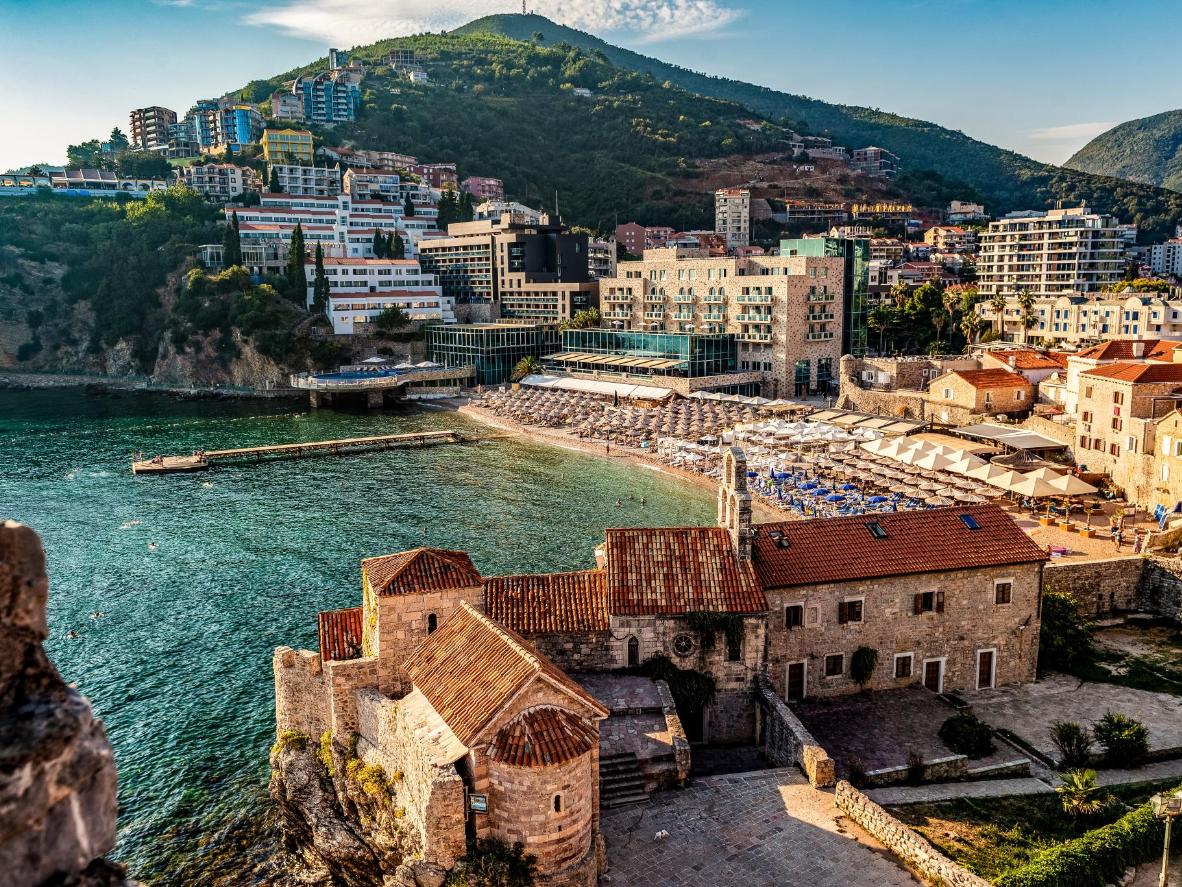 A view of the beach from Budva's old town
If you want to relax on a beach next year, Budva in western Montenegro is the perfect European destination for you. Located on the shores of the Adriatic Sea, the town boasts a long, winding coastline known as the Budva Riviera, where golden sand is lapped by crystal clear waters. Budva's medieval old town features Venetian stone walls, cobbled streets, and restaurants serving fresh grilled seafood, including octopus, a local specialty. For those seeking adventure, explore Boka Bay on the Mamula Island, Blue Cave & Lady of the Rocks Tour, where travelers can swim and snorkel at the Blue Cave and even enter a submarine tunnel. At night, Budva comes alive with bars and clubs headlined by famous techno and house DJs for dancing the night away.
Where to stay: Apartments Inspiration offers studio, one-bed, and family apartments just a short walk from the old town and beach. Enjoy balconies with views of the town, surrounding mountains, and ocean, or have dinner on the terrace overlooking the fiery Mediterranean sunset.
Pondicherry, India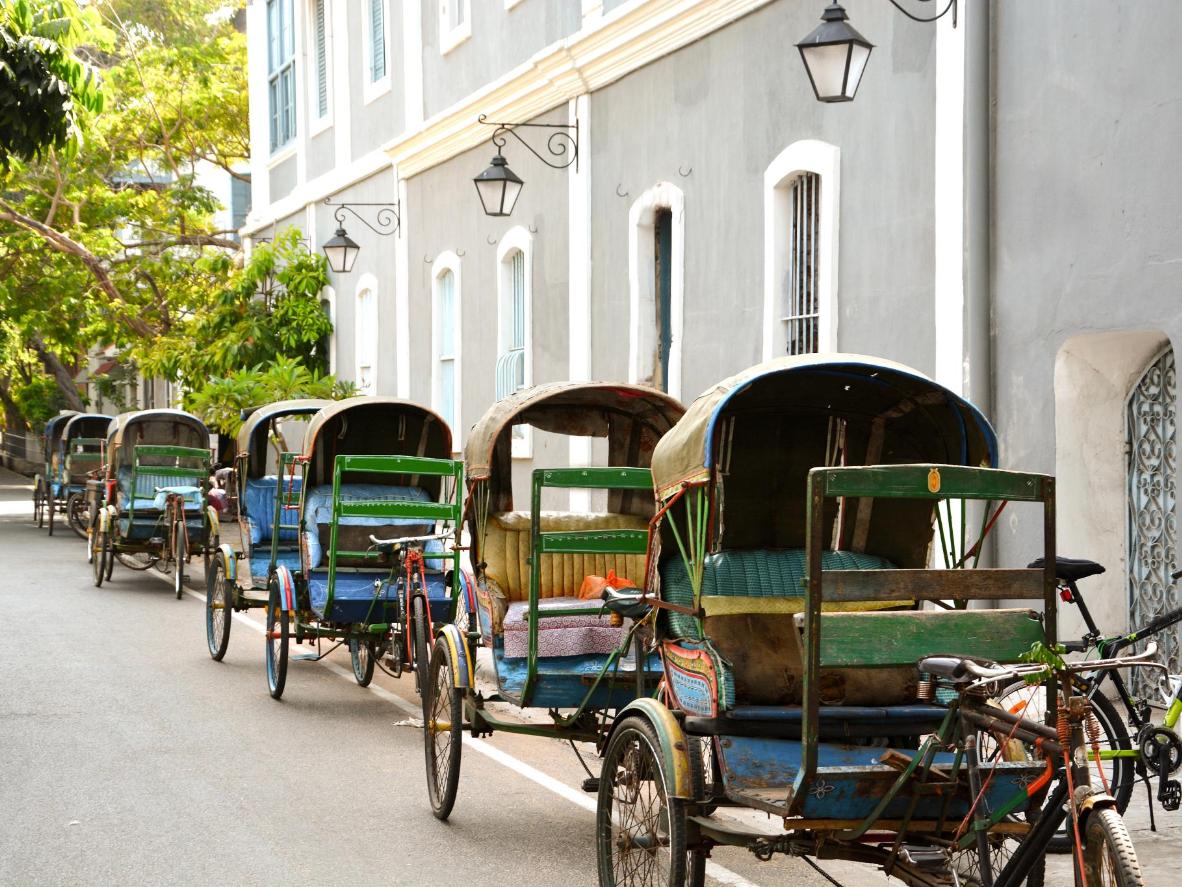 Cycle rickshaws parked in the leafy streets of Pondicherry, India
The seaside city of Pondicherry sits on the southeast coast of India facing the Bay of Bengal. Nicknamed "Pondy," it attracts spiritually-minded visitors looking to visit its ashrams to do some yoga and meditation. The best way to get around is by biking along the leafy boulevards or on a Customized Private Walking Tour to wander quaint, historic streets lined with pastel townhouses and balconies draped in pink bougainvilleas. Tranquil beaches stretch north and south from town, but Mahe Beach is the best spot to watch an incredible sunrise. Throughout the year, numerous festivities and religious celebrations invite visitors to immerse themselves in the vibrant local culture.
Traveler tip from Saurabh:
"Concept store and café Baker Street serves the best French baguettes and pastries in town. Enjoy coffee at The Hidden Garden Café by Rock Beach and stay nearby, since this is the most fun area. The best way to explore is to rent a 2-wheeler motor vehicle – and be sure to visit the experimental township of Auroville, just outside the city."
Where to stay: Traditional B&B, Anantha Heritage, is a beautifully restored, high-ceiling Tamil house behind a temple and sacred pool. The property is close to the Goubert Bazaar—one of the oldest markets in the city—and also sits just a short walk to the beach.
Querétaro, Mexico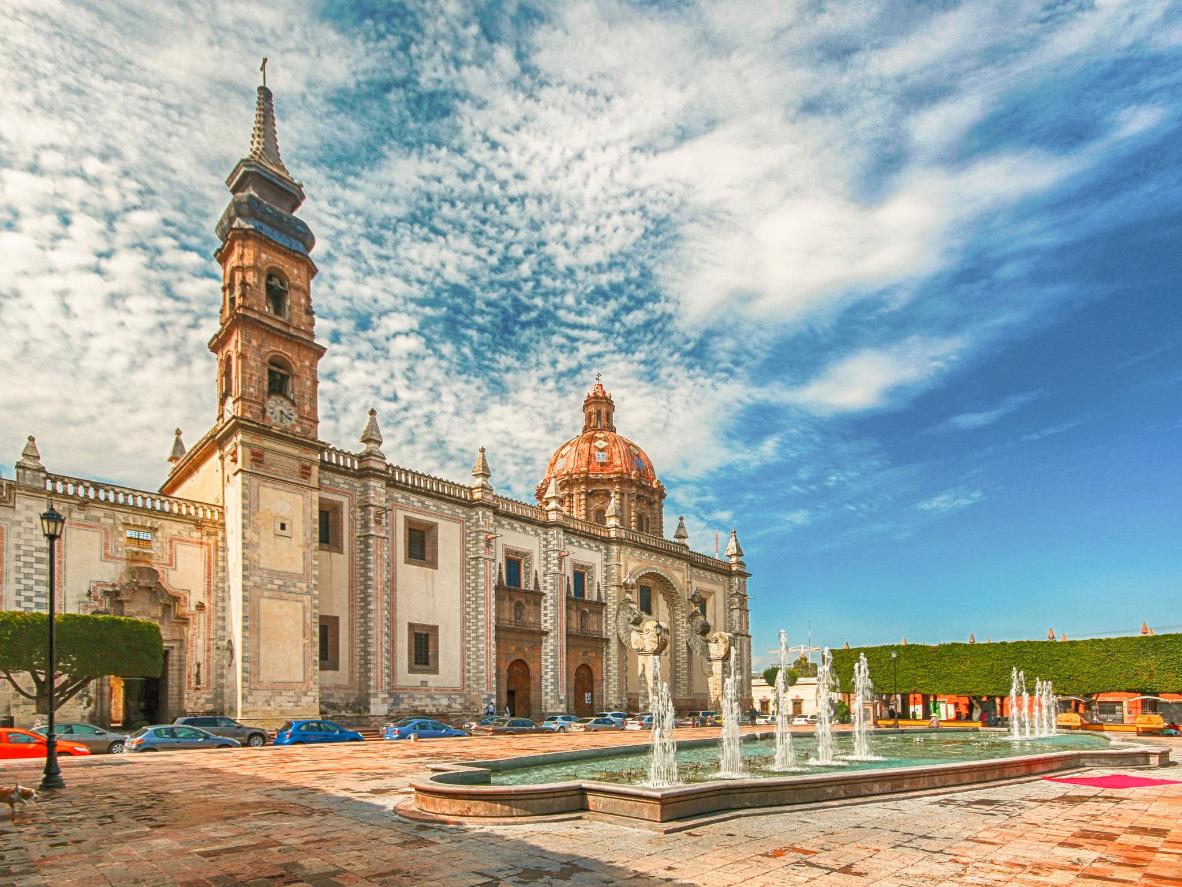 Querétaro's historic center was declared a UNESCO Cultural World Heritage Site in 1996
The city of Querétaro in Mexico sits in the central highlands, which have a blissful, spring-like climate thanks to the altitude. Just a short drive away, you'll find one of the world's largest monoliths, Peña de Bernal. You can climb the remains of this old volcano, rising majestically 1421 feet into the sky. The region is also home to Sierra Gorda, a biosphere reserve known as the "green jewel" of Mexico due to its forest-covered mountains, valleys, and canyons. Back in town, travelers can stroll past fountains, plazas, and historic churches before making a pitstop at the Mercado La Cruz, a market packed with tasty taco stands and colorful pinatas. Finish the day here with a glass of "fizz," a specialty from the Querétaro wine region.
Where to stay: Located in the historic center of Querétaro, the blue-washed Morazul Hotel Boutique features old stone walls, tiled floors, wood-beamed ceilings, and four-post beds.
Bolzano, Italy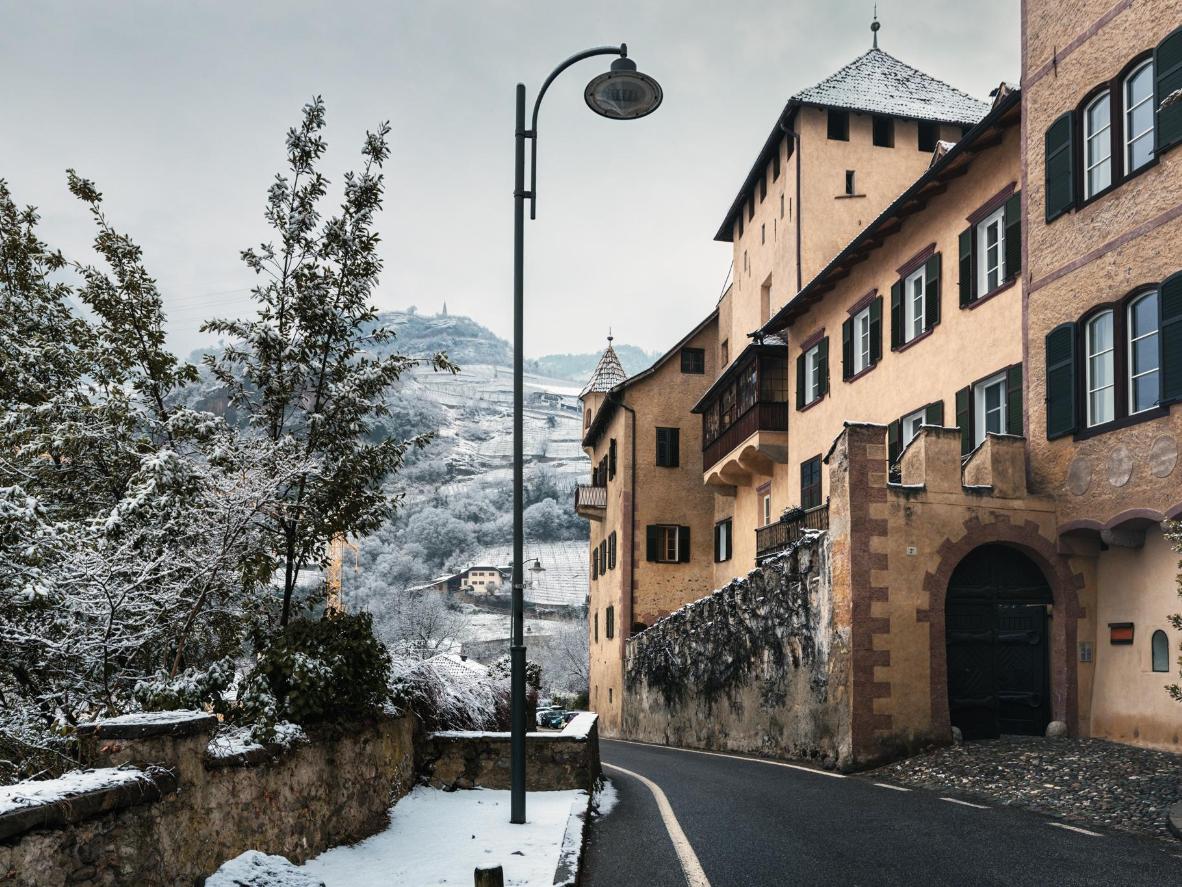 Roman-style buildings with a snow-covered mountain backdrop in Bolzano, Italy
The capital of Italy's northernmost South Tyrol region, Bolzano is an idyllic alpine destination set among the snow-capped mountains of the Italian Dolomites. You can hike here in the summer or head to one of its famous ski resorts in the winter. You'll also discover medieval castles and the gothic Duomo di Bolzano, a cathedral with imposing spires that contrast with the city's painted houses. For a modern culture fix, the Museion is a gallery full of contemporary paintings and sculptures. This region of Italy is renowned for its full-bodied wines – visit the Santa Maria Maddalena Church for a wine tasting with breathtaking views of rolling vineyards. A Group Market Tour with Cooking Class offers the chance to explore local markets as well as a visit to the host's home to prepare an Italian aperitivo.
Traveler tip from Luca:
"Try Castel Flavon – you eat very well and the view is very beautiful. And take an excursion to the Dolomites, though I recommend relying on an alpine guide (who can be hired locally).
Where to stay: With views of the Dolomites, Castel Hörtenberg is a refurbished Renaissance castle in the center of Bolzano with wood paneling, a wine cellar, and a luxury spa."
Kota Kinabalu, Malaysia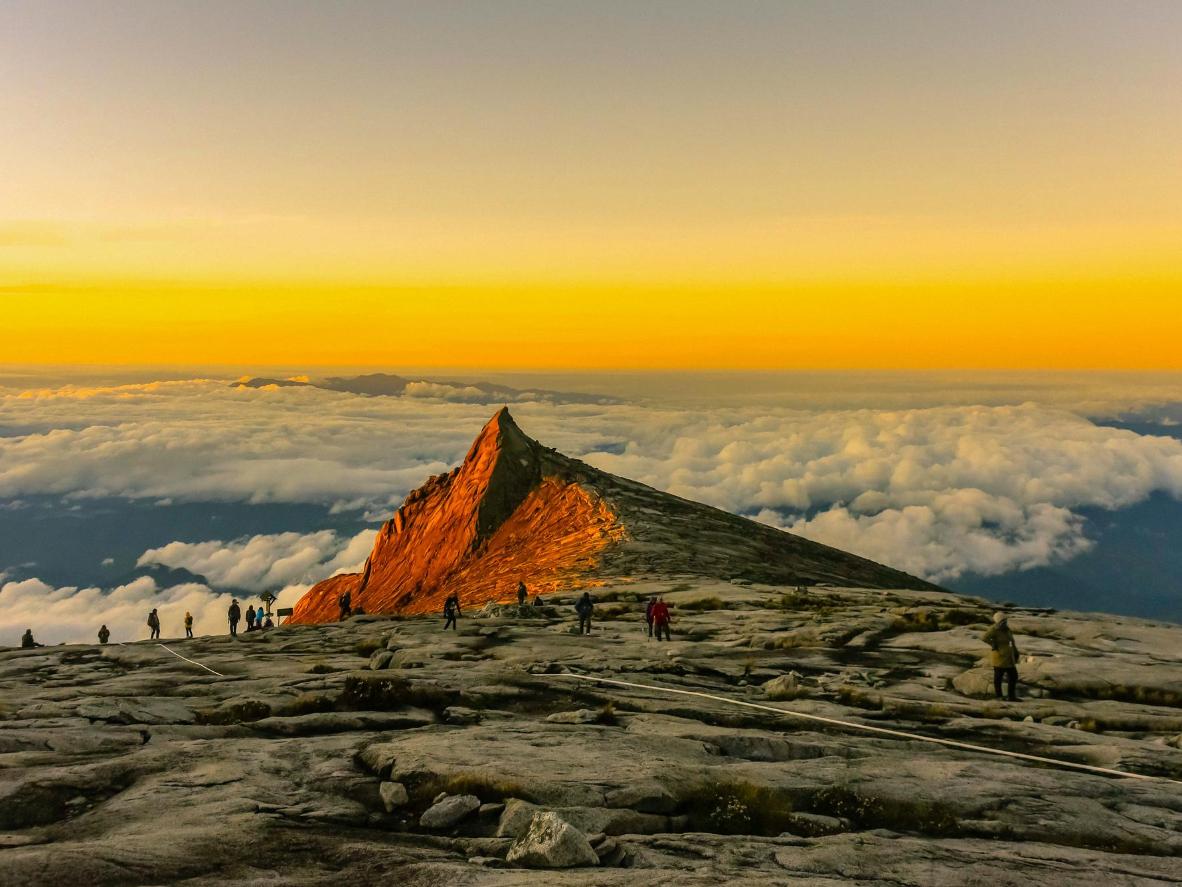 Catch a sunrise over the Nanamun River from the South Peak of Mount Kinabalu
Known locally as "KK," the bustling capital of Sabah in the Malaysian part of the island of Borneo is a hidden gem surrounded by rainforests and sandy beaches. By day, browse exquisite pearls, textiles, and wood carvings crafted by artisans at the Kota Kinabalu Handicraft Market. Or make a beeline to Tanjung Aru Beach, a local hotspot. Visit the Floating Seafood Market restaurant for excellent butter prawns and soft-shell crab, as well as cultural performances. The ecosystems around Kota Kinabalu are home to unique wildlife, best observed from a boat during an Evening River Safari. Look out for views of Mount Kinabalu along the Nanamun River, as well as for the native proboscis monkey. At dusk, thousands of fireflies light up the evening sky.
Where to stay: Check in to Le Meridien Kota Kinabalu across from the city's waterfront market for modern accommodations in the heart of the action. Head to the beach for snorkeling or simply recline on one of the poolside cabanas with a cocktail.
Kalabaka, Greece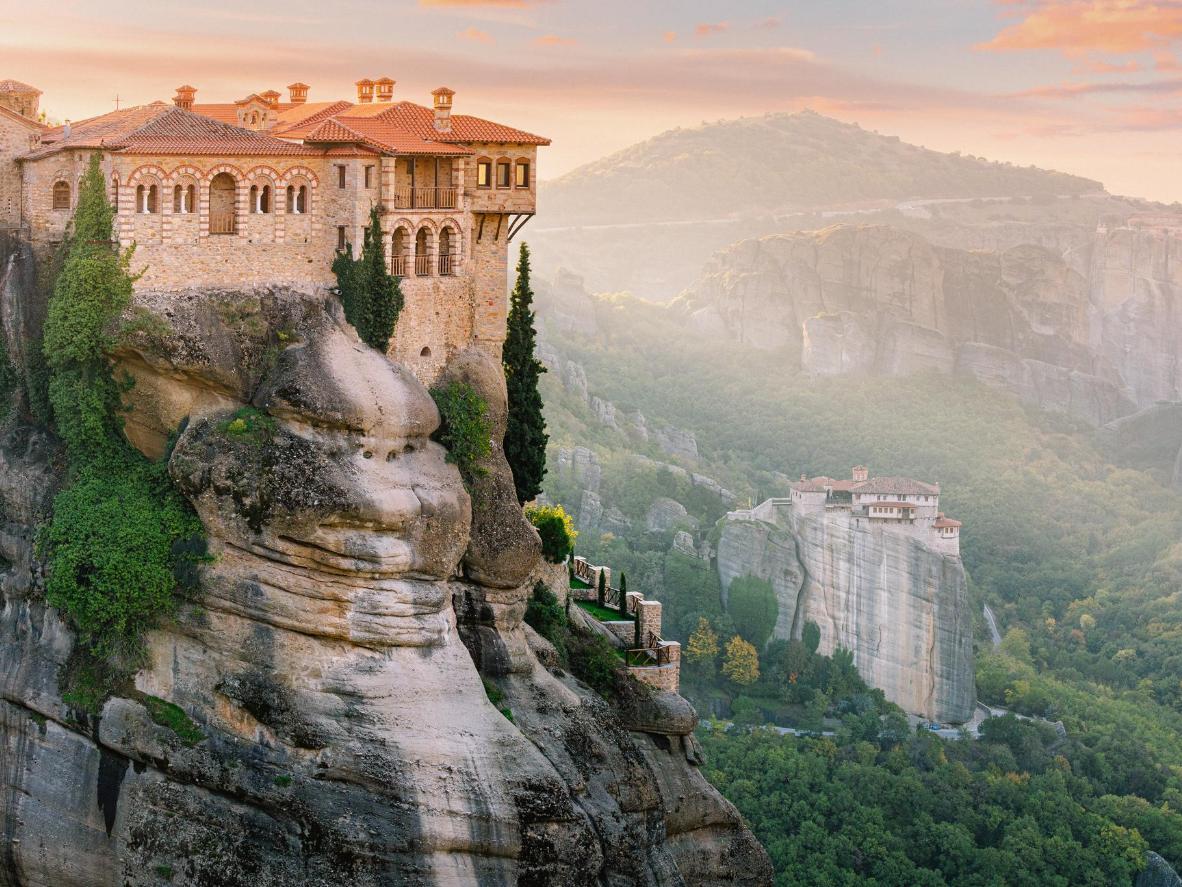 Greece's famous Meteora, where monasteries stand on steep cliffs among emerald hills
Located in the Thessaly Valley, the scenic Greek town of Kalabaka guards the Meteora, a mighty rock formation that's home to several Eastern Orthodox monasteries. Looking as if suspended in the air against a backdrop of emerald hills, this 1,300-foot-high, 13th-century site was built by monks in search of solitude. Today, it offers otherworldly views to those exploring on foot. Take a Meteora Sunset Tour to discover the thousand-year-old Badovas hermit caves and monastery frescoes before watching the sunset across the valley. For foodies, there's a bustling market every Friday as well as local restaurants serving meatballs, moussaka, and slow-cooked stews. To dig even deeper, the town's Natural History Museum organizes truffle hunting tours followed by tantalizing fresh truffle pastas.
Traveler tip from Stefano:
"Meteoron Panorama Restaurant is a tavern that offers traditional Greek dishes well-prepared and at an honest price. You eat on a terrace at the foot of the Meteora."
Where to stay: Between the Meteora and the town center, the Hotel Doupiani House offers great views and a delicious breakfast of fresh fruit grown in the hotel's garden.
Santa Fe, United States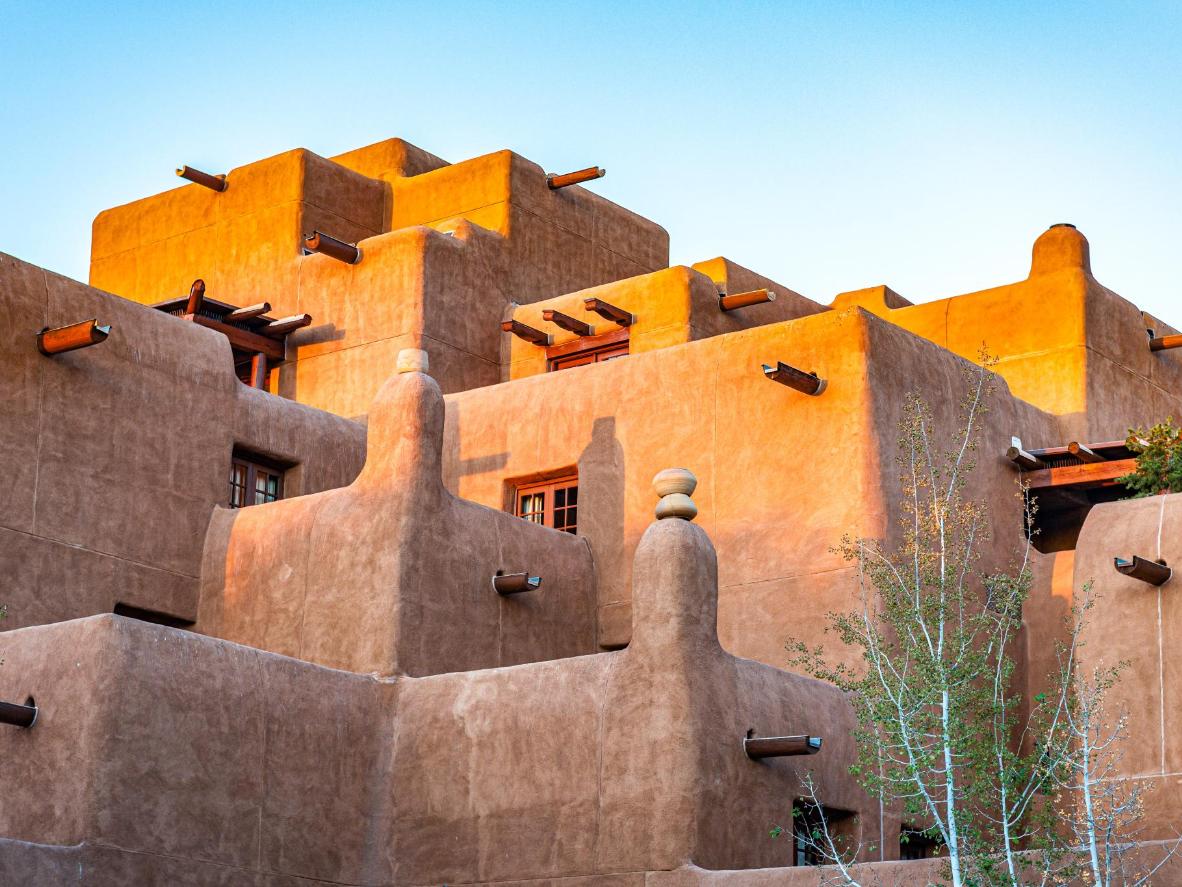 Be sure to check out some of Santa Fe's indigenous Adobe architecture
The uniqueness of Santa Fe is encapsulated by its nickname, "The City Different." Explore its unparalleled multicultural heritage via the vibrant food scene, with tons of Mexican food trucks and open-air markets, then learn more about indigenous culture at the Museum of Contemporary Native Arts. Santa Fe is also the United States' highest state capital. It sits at the foot of the Sangre de Cristo range, making it a great base for hiking, mountain biking, and skiing. Adrenaline junkies can venture into the mountains for rock climbing, paragliding, or white water rafting.* Try a Downtown Santa Fe Photography Tour & Class to meet and learn from a Sante Fe resident while admiring the city's historic architecture.
Traveler tip from Tracy:
"My favorite Santa Fe restaurants would be Geronimo, The Shed, and Sazon. These places are southwestern style and some are like a hacienda with a cantina-style bar."
Where to stay: The Bobcat Inn is a B&B just a short drive from both the city center and various hiking trails, with a courtyard, BBQ, mountain views, and a garden perfect for stargazing.
Olomouc, Czech Republic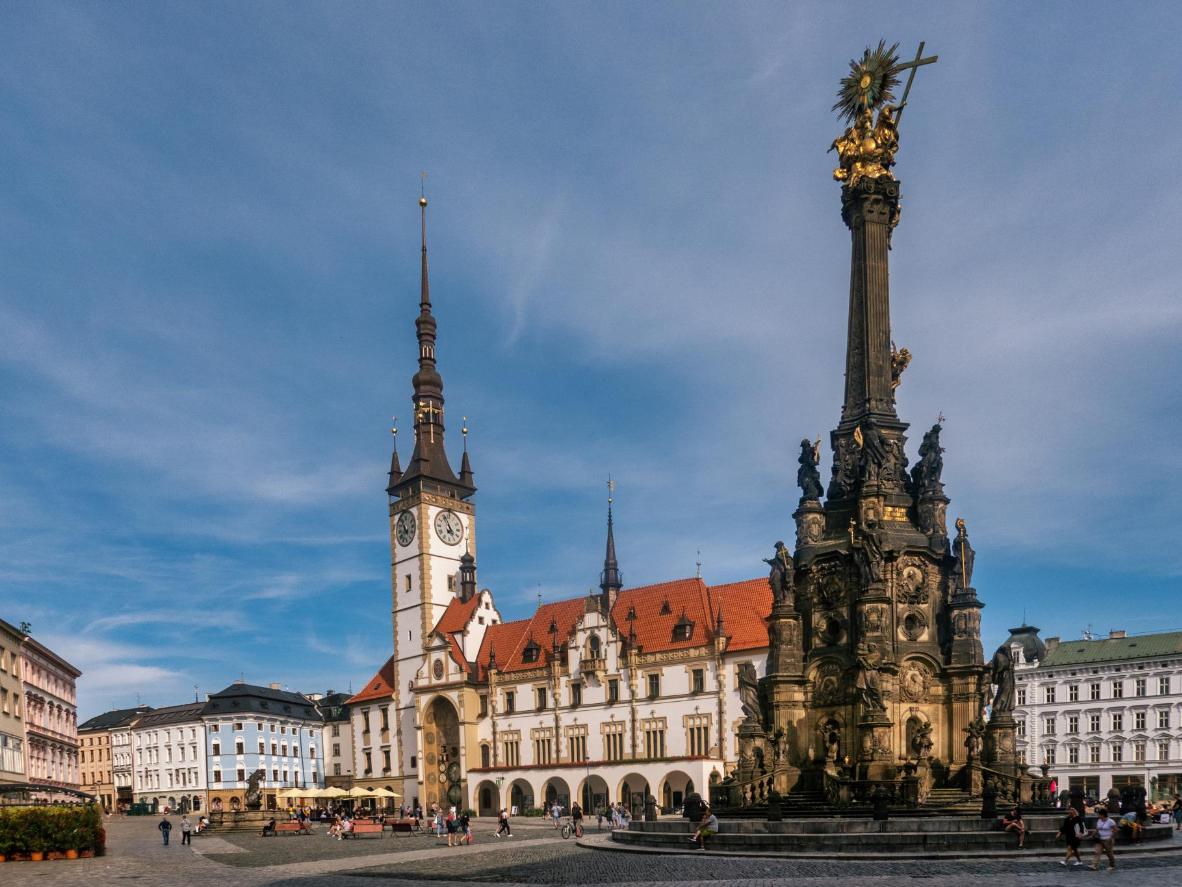 Climb Olamouc's town hall tower for an amazing view of the old center
For travelers looking to explore lesser-known places next year, the historic Czech Republic city of Olomouc is one of Europe's best-kept secrets. Located in the Haná region of Moravia, it dates back to Roman times and has everything from grand architecture and microbreweries to rich gastronomy – the local Olomoucké tvarůžky soft cheese is a must. The well-preserved old town is a UNESCO World Heritage site. The Holy Trinity Column, which rises nearly 115 feet high in the main square, is one of the baroque wonders of Central Europe. Enjoy views of the column from the nearby Town Hall Tower, as well as the beautiful Jeseniky Mountains.
Where to stay: The central Long Story Short Hostel & Café is set in an 18th-century fort and offers a pétanque court, BBQ, a café, and a terrace bar with live music events and movie nights.
Hobart, Australia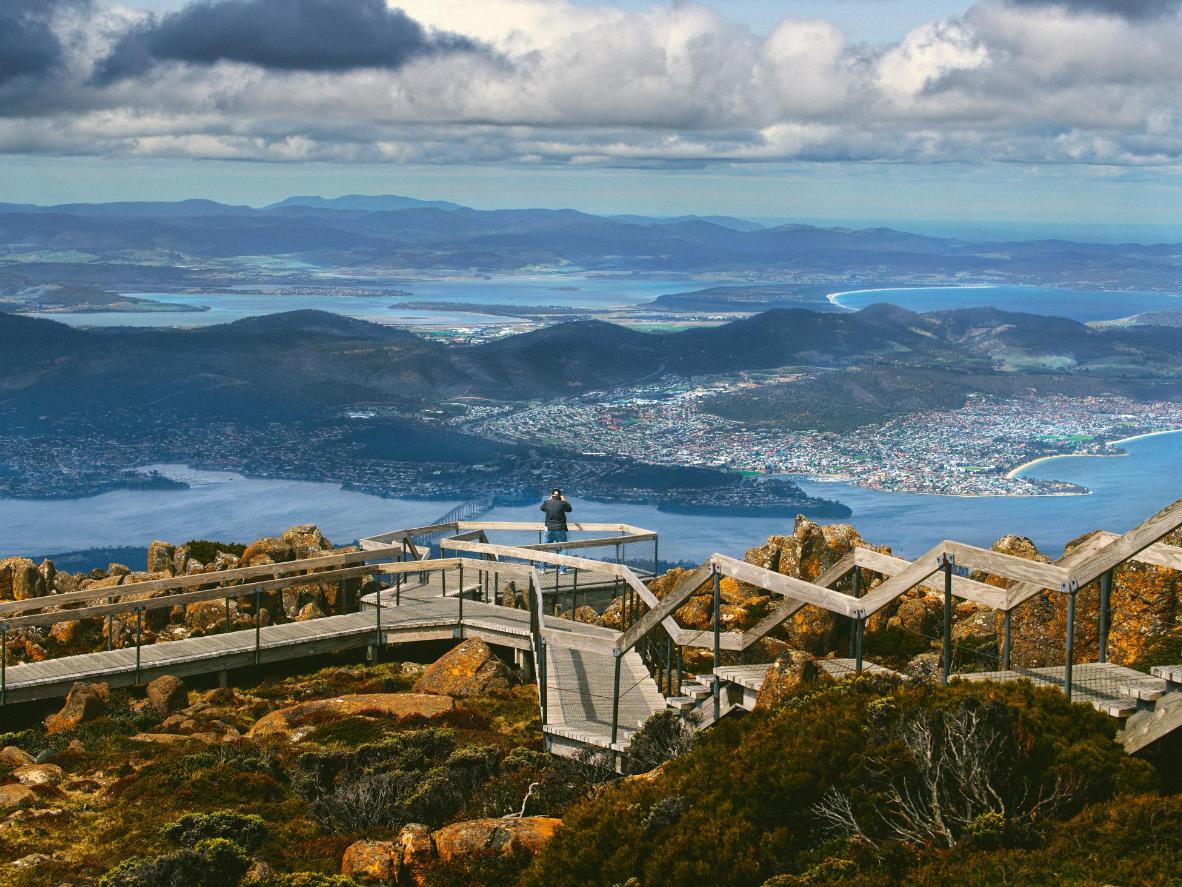 Explore Hobart's beautiful surroundings
There are few destinations where travelers can climb a mountain, head to the beach, and visit a world-class art gallery all in one day, but Hobart promises just that. The world-famous Museum of Old and New Art (MONA) placed Hobart on the global cultural map. The nature here is equally astounding. The capital of Tasmania is the southernmost capital in Australia, framed by Mount Wellington and located on the River Derwent. Explore the city's beautiful surroundings via kayak, or try rappelling and surfing for extra thrills. And if even that's not enough, sign up for a Learn-to-fly Experience to glide over the city in a plane under the guidance of a qualified instructor.
Where to stay: Maylands Lodge is an old landmark property and luxury hotel, just a short drive from the city center and waterfront, with rooms that feature mountain or garden views.
**Destinations had to be in the top 1,000 most booked on Booking.com between August 1, 2021 and July 31, 2022. The resulting list was sorted by year-over-year increase, and destinations with a large decrease in the share of domestic bookings were removed. This was to ensure that the list represents destinations that have managed to maintain domestic (and international) interest, even in the face of loosening Covid-related travel restrictions.